BRI key to connectivity for logistics giant
Share - WeChat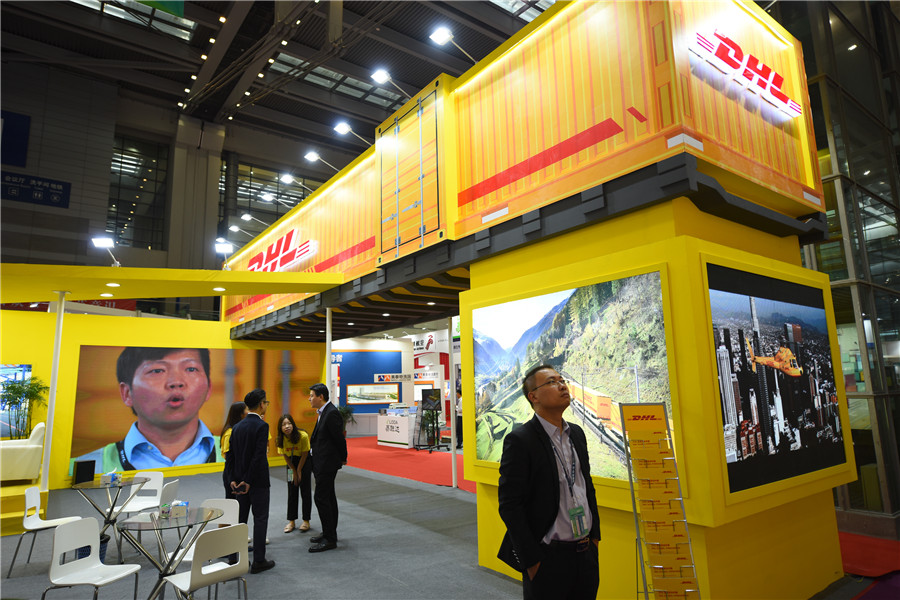 Deutsche Post DHL Group has extended its cross-border road transportation network to economies involved in the initiative
Following the opening of the Hong Kong-Zhuhai-Macao Bridge late last year, Deutsche Post DHL Group, which is headquartered in Bonn, Germany, decided to launch a cross-border truck service via the bridge that will cut transit time by 75 percent and costs by up to 15 percent compared with previous routes.
The new service can deliver goods from Shenzhen to Singapore in six to eight days door-to-door, significantly shorter than ocean freight which takes between 13 and 14 days.
The group's cross-border road transportation network has extended to countries and regions involved in the Belt and Road Initiative including China, Singapore, Malaysia, Thailand, Vietnam, and Cambodia.
Since the Belt and Road Initiative was proposed by China in 2013, Deutsche Post DHL, one of the world's largest mail and logistics companies, has announced several moves to tap into the opportunities presented by the initiative as an active player in forging an international logistics and transportation network with an unprecedented scale. Viewing China as one of its top markets, Deutsche Post DHL Group has tied its future closely to the development of the China market.
In the past few years, what efforts has Deutsche Post DHL Group made to tap into the opportunities presented by the Belt and Road Initiative?
DHL has been developing multimodal services along the Belt and Road Initiative since 2008, and now connects China, Japan and Southeast Asia to Europe. Dubbed "The DHL Asia-Europe-Asia Multimodal Network", the comprehensive network spans six main rail routes crisscrossing the main centers of China into Europe.
This connectivity provides businesses with an additional mode of transportation - DHL's multimodal rail solution provides an alternative up to six times cheaper than airfreight, and about 50 percent faster than ocean freight.
Countries and regions related to the Belt and Road Initiative have a combined population accounting for 62 percent of the world's population and 30 percent of global GDP. What's the significance of the initiative for Deutsche Post DHL Group's global business and China operations in particular?
In general, I see the Belt and Road Initiative as a positive development because it can connect countries and regions that are not well connected to the global economy, which is good. We need to do something to connect countries more to the global environment so they can participate. We are trying to be as supportive as possible because we think it's good to improve connectivity and that's the idea of the Belt and Road Initiative. At the moment, we are building infrastructure.
What's your biggest achievement in China so far? How has Deutsche Post DHL Group performed globally and in China in 2018?
I think we are proud of all our activities. I am proud of our footprint. We are present in all provinces of China, with sizable operations, which is probably unique. We are not just serving Shenzhen, Shanghai or Hong Kong, we are serving the whole China market.
Since our joint venture with Sinotrans in 1986, we are here for a long time with local experience.
We have a local face, a local team, in a global environment, and that is our recipe for success. We need local people who are well trusted and well connected to the global network. That works well in China.
SF Holding Co Ltd and Deutsche Post DHL Group launched their co-branded business, SF DHL Supply Chain China in Shanghai. Why did you make such a decision? What are your expectations for your supply chain business in China?
The reason for reaching the supply chain deal with SF Holding in a booming market is because we felt combining that with SF's capabilities would give that co-organization another growth opportunity that we cannot get to. We mainly serve multinational customers, and SF is serving multinational but also many domestic customers.
We think the combination of SF's customer base and capabilities with ours is the best solution going forward. We expect to see more growth and also benefit from the growth.
What are your business prospects in China? How would you achieve them?
The China market is quite sizable. Some industry analysts are forecasting that China's third-party logistics market will grow at a CAGR (compound annual growth rate) of 17 percent between 2018 and 2021. From our vantage point, continued economic growth, the e-commerce boom and the trend to outsource one's logistics needs make China a critical part of DPDHL Group's global growth and strategy.