12 celebrities reveal their favorite foods on TV show
Share - WeChat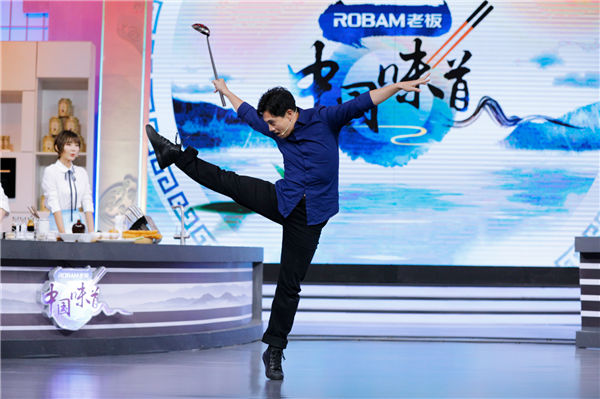 Twelve Chinese celebrities are part of a food TV show called Taste of China where they share their favorite Chinese dishes and recall their paths to stardom.
The 12-episode show, produced and aired by China Central Television, with each episode lasting 50 minutes, premiered on March 30. It aims to showcase traditional Chinese culture via food, and explore the relationship between people and food.
The TV show also focuses on introducing the history and cooking techniques of the 12 dishes, with the help of the senior cook from Beijing Hotel, Liu Zhong, and Li Bo, a scholar of Chinese culture from Nanjing Normal University.
Speaking about the show, director Huang Xianfei says: "Food carries people's life stories, and the stories relate to cultural inheritance.
"We want to present traditional Chinese culture through food to the audiences."
The opening episode has Peking Opera actress Wang Peiyu performing excerpts from classic Peking Opera pieces while making a dish called yanduxian, or stewed pork with bamboo shoots in soup, on the TV show.
Wang, 41, who was born in Suzhou, Jiangsu province, graduated from Shanghai Normal University and did further studies at the National Academy of Chinese Theatre Arts before becoming a Peking Opera performer. She has been performing with the Shanghai Jingju Theater Company since 2001.
Peking Opera, or jingju, has a history of more than 200 years, and in 2010 UNESCO declared it an Intangible Cultural Heritage of Humanity. It combines singing, dancing, martial arts and acrobatics.
Wang specializes in playing laosheng roles, or old male roles, and is credited with broadening the appeal of Peking Opera, especially among the younger generation.
Wang learned to cook yanduxian, a soup made of bamboo shoots and hams, from her late grandmother, who used to cook it for Lunar New Year's Eve every year.
Bamboo shoots are abundant in southern China and Wang says that her grandmother was good at cooking with bamboo shoots.
"The dish is full of her life wisdom. And though I travel around the world to give performances and eat food from different countries, I will never forget the taste of the yanduxian she made for me," says Wang.
Recalling her path to stardom, Wang adds that her grandmother was the only one in the family, who supported her decision to be a Peking Opera actress. "She was always proud of me and was always on my side. I can still remember that she made the dish to celebrate my graduation," says Wang.
Other celebrities who are part of the show are 70-year-old Xia Boyu, who reached the summit of Mount Qomolangma, the highest mountain in the world; Chinese dancer-choreographer Huang Doudou; Chinese singer Wang Erni and dubbing artist Li Lihong.
Most Popular