Shoushan Stone carvings on show in Beijing
Share - WeChat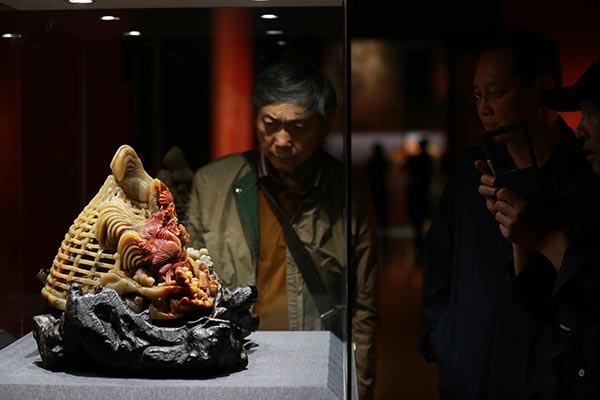 For centuries, artisans in Fujian province have been carving stones mined from the Shoushan village, near the provincial capital of Fuzhou. The semi-translucent stones, characterized by the way the feel in the hand and their elegant colors, are sculpted into figurines, landscapes, ornaments and seals.
Charms of Shoushan Stone, an ongoing exhibition at the National Art Museum of China gathers antique and modern objects which introduce the tradition of stone carving in Fujian. It offers a visual introduction to both the fine quality of Shoushan stone and the sophisticated craftsmanship required to manipulate it.
On show at the exhibition, which runs through May 26, are seals made from excellent examples of the stone, which were sought after among the intellectuals of the Ming (1368-1644) and Qing (1644-1911) dynasties, and were also entered into imperial collections.
There are also mini sculptures which show artisans' different approaches to carving Shoushan stone based on its vibrant color schemes: a red and yellow stone that is suitable for sculpting mountains, flowers and fruits; a black one for trees and stones and a grayish one for clouds.
Most Popular