Planting seeds to cultivate culture
Share - WeChat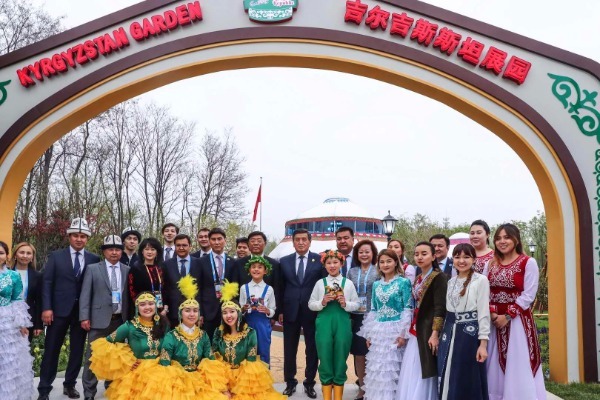 The Kyrgyz pavilion at the Beijing Horticulture Expo offers insights into not only the Central Asian country's endemic flora but also its people, Yang Feiyue reports.
A deer totem is painted on a yellow gravel road that leads to the Kyrgyz pavilion at the Beijing Horticulture Expo.
The pavilion is one of the many that presents the latest achievements in floriculture and farming from more than 100 countries and organizations at the 162-day expo, which kicked off at the foot of the Great Wall in northwest Beijing's Yanqing district on April 29.
"In our culture, a deer symbolizes harmony between people and nature," says Azat Erkebaev, a senior official from the Kyrgyz Agriculture Ministry.
Two stone sculptures symbolizing the Kyrgyz people's remembrances and tributes to their historical figures stand on both sides of the road, symbolizing the Silk Road that ran from China to Europe through Kyrgyzstan.
It's worth noting that Beijing hosted the high-level Second Belt and Road Forum for International Cooperation just before the expo.
The Kyrgyz pavilion covers an area of more than 1,000 square meters, including a garden and two rooms built like yurts, which are traditional Kyrgyz tent dwellings.