Families pay tribute to long-lost Chinese aviators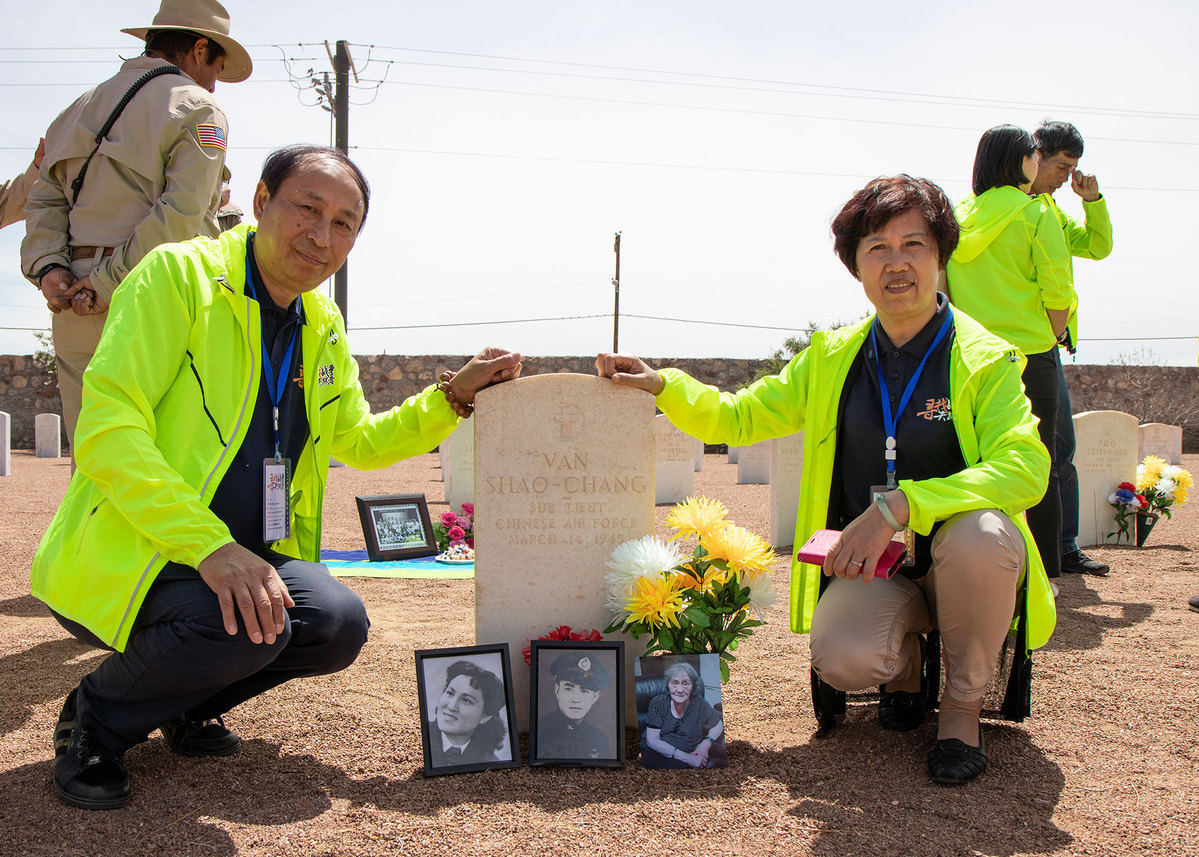 Relatives travel to the United States to visit the graves of 52 young pilots who died overseas during World War II. Li Lei reports.
On May 13, the United States flag flew at half-mast at Fort Bliss National Cemetery in West Texas as the facility played host to 12 visitors from China and five from the US.
The solemn-looking visitors laid bouquets in front of 52 marble headstones engraved with the words "CHINESE AIR FORCE" that formed a rectangle near the perimeter fence.
Some had brought packs of incense from China, believing they bore the scent of home, while others sprayed Chinese liquor near the graves to show respect and express a sense of loss.
"The day has finally come, Uncle. I am here to see you," said Hu Hanying, who was paying tribute to her relative Lu Ju-hsiang, one of 52 members of the Nationalist Kuomintang air force buried at the cemetery.
The mourners were all descendants of the aviators, mainly young intellectuals from wealthy backgrounds who were recruited from colleges or military academies during World War II and sent to the US for training.
These well-heeled young men volunteered to join the training program, even though they knew the high accident rate meant it would be a dangerous undertaking.
They had hoped to quickly prepare to fight aerial battles at home, where millions of civilians had been killed by the Japanese, who launched air raids and vowed to "burn all, kill all and loot all".
However, none of the young aviators died in battle; instead, they were killed in crashes in the skies above the US between 1942 and 1946, so most of them died as the War of Resistance Against Japanese Aggression (1931-45) in China drew to a close.
The events that followed WWII, including the Chinese Civil War (1946-49) - which resulted in the Kuomintang decamping to Taiwan - and decades of political movements in the Chinese mainland left the country largely isolated.
That meant searching for the aviators' remains was out of the question.
By the time China and the US established full diplomatic relations in 1979, the descendants' memories of their "anti-Japanese heroes" had faded, which hampered efforts to locate the graves.
For more than 70 years, the young aviators lay buried in the cemetery in the Texan desert: there were no visitors, no flowers and no clues as to their whereabouts.