Cosmologist Brian Cox on the meaning of life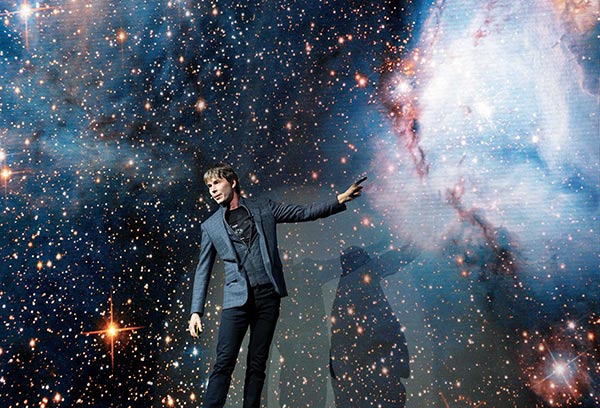 There's a remarkable moment at the British Consulate in Hong Kong when, ten minutes before physics professor and TV personality Brian Cox is just about to deliver a promotional speech in front of journalists, a man who spends half his life looking for evidence of creation's beginning as long as four billion years ago in the cosmos, looks up at the projection screen and says there's so much light shining through that he can't see. Is there a blind that can be lowered, he asks? No. "Okay, I'll do my best, but you'll just have to come to the show to see these images," he jokes, with his mix of wild-eyed, disciplined-mind, boy wonder-esque persona. Cox is referring to his "stadium cosmology" performance, the Professor Brian Cox Universal World Tour, which will land in Hong Kong on June 5, and also visits Singapore, New Zealand and Australia.
In person, Cox burns like a comet, enlightening eyes and minds by the nanosecond. He uses state-of-the-art graphics and imagery from telescopes and space probes in his show, with ultra-high-resolution LED technology helping explore the latest missions to planets, the nature of space and time from the Big Bang to black holes, and the origin and fate of life and intelligence in the universe. He even "journeys" around and into a black hole. "On this new tour, I'm going a step further with technology," he says. "And I hope it'll offer people a completely new perspective on our place in the universe."
A former pop star of the 1980s and '90s, Cox is today a professor of particle physics at the University of Manchester. He's also an author, most recently of Universal: A Guide to the Cosmos (with Jeff Forshaw), and a broadcaster, known for highly acclaimed BBC science programmes. Cox combines the best of David Attenborough, Carl Sagan and millennial thinking in his make-up. In an exclusive chat, we got to know the 51-year-old boy wonder of physics.
Most Popular