Industry execs express confidence in prospects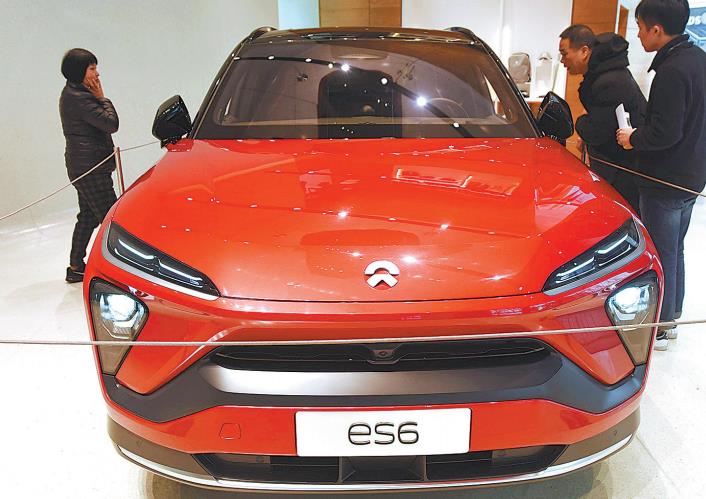 Current downturn a shakeout that will make stronger players more resilient, conference told
Despite the downward spiral that has lingered for almost a year in China's automotive market, executives from traditional carmakers and startups at a forum on Friday expressed their confidence in the industry's long-term future.
Statistics from the China Association of Automobile Manufacturers show that vehicle sales in the first quarter totaled 6.37 million, down 11.3 percent year-on-year. The downward trend started in July 2018 and has so far shown no sign of recovery.
Ye Pei, vice-president of Chinese carmaker Changan, said a breakdown of the figures reveals that the sales fell mainly in smaller cities in northern China, while the demand did not contract in first- and second-tier cities.
"Does it mean that there was no demand in tier-three cities? Of course not. It was because we carmakers did not meet their demand in a better way. I think there is growth potential, huge potential," said Ye, at the annual China Automotive Bluebook Forum organized by the Auto Business Review magazine.
His words were echoed by Jiang Zili, vice-president of BAIC Group.
Jiang said China's automotive industry has entered into a new era, characterized by slower growth, increased competition and emergence of new technological trends including new energy cars and connected vehicles.
"However, there will be room after two or three years' of adjustment in the market, and vehicle sales in the country will exceed at least 30 million."
China's total vehicle sales stood at around 28 million last year and the figure will remain at the same level this year, according to the China Association of Automobile Manufacturers.
Jiang also urged carmakers to improve their competitiveness; he said uncompetitive manufacturers may not survive the transition process over the next two-three years.
After the reshuffle, though, he believes the industry will see an upward spiral, which will present the opportunities for Chinese brands to stand out.
"Chinese companies must go upward if they want to see the long-term return after going through the winter of the market," he said.
BAIC has unveiled its high-end electric vehicle brand Arcfox. Built based on the carmaker's expertise over the past years and in collaboration with Magna, Huawei and Daimler, the brand is aiming to meet the higher demands of Chinese customers.
Several other Chinese carmakers including Geely, Great Wall Motor and Chery have launched their high-end brands, as well, taking volume international brands head-on.
Startups at the forum are convinced that new energy vehicles, which are growing fast in popularity across China, have strong potential.
Fu Qiang, co-founder and president of Aiways, said despite the overall downward trend in the markets, both in China and the United States, sales of new energy vehicles are growing at a stunning speed.
A total of 299,000 electric vehicles and plug-in hybrids were sold in the first quarter of the year, up almost 110 percent from the same period last year, according to the China Association of Automobile Manufacturers.
The trend will continue for quite a long time to come, said Fu, who added that Aiways' first model will roll off the assembly line later this year.
But that does not mean electric carmakers can succeed without making strenuous efforts, industry leaders said.
As boundaries between different industries are blurring, changes in energy and technology industries are now creating a whole batch of changes in the automotive industry, said Nio Chairman William Li.
He said it might be easy to churn out vehicles to make quick money, but it takes a lot more effort and resources if Chinese startups intend to pitch against rivals globally.
Li said Nio had delivered more than 15,000 ES8 and ES6 SUVs by the end of March at an average price of 500,000 yuan ($73,313). "Before us, no one had sold so many cars at such a high price," Li said.