JAC comes under emissions scandal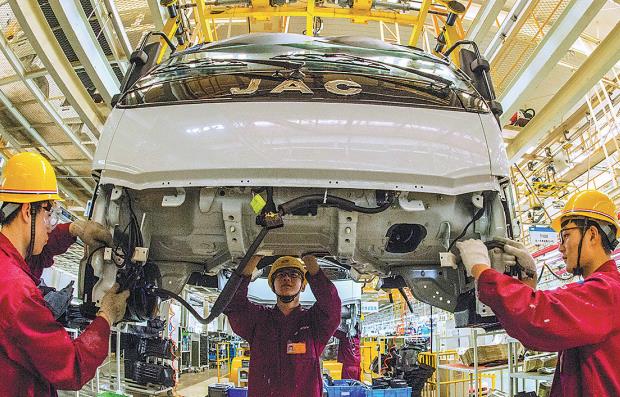 JAC Motors is entangled in an emissions fraud scandal in China, with a hearing scheduled to be held on Thursday. If convicted, the Anhui-based carmaker may face a heavy fine that will deal an equally heavy blow to add to its lackluster financial performance.
In a notice issued on May 5, the Beijing Municipal Ecological Environment Bureau said JAC was suspected of selling defective pollution control devices posing as qualified products for emissions inspection.
The bureau said it would hold a hearing for the carmaker on May 16, but has not disclosed the specific products involved.
Quoting an insider from JAC, the 21st Century Business Herald reported that the vehicles accused of emissions cheating are mainly commercial vehicles, but the specific models and more details are unclear.
If convicted, the automaker is likely to suffer heavy punishment, rubbing salt into the wounds of its recent poor financial performance, according to industry insiders.
According to the automaker's first-quarter financial report of 2019, net profit attributable to shareholders in the first three months was 64.63 million yuan ($9.51 million), a decline of 69.13 percent from the previous year.
It is not the first time that JAC had faced emissions fraud charges.
In 2014, JAC was found to have altered some engines' model numbers and vehicle qualification certificates, pretending to meet the National IV emissions standards.
According to the JAC insider, the automaker's behavior in 2014 was an objective violation of laws and regulations and was punished afterward.
But he also stressed that JAC was not the only company that had committed emissions fraud, which is ubiquitous in the commercial vehicle segment.
China has precedents of punishing the behaviors of companies with nonstandard emissions, selling shoddy pollution control devices and posing as qualified products for emissions inspection.
Two Shandong-based automakers, including Kama Automobile, were fined more than 38 million yuan in total, according to a notice released by the Ministry of Environmental Protection of China, now called the Ministry of Ecology and Environment of China, in January 2018.
In its process of product sampling, the ministry found that more than 100 light diesel-powered trucks produced by the two automakers in 2016 had excessive emissions above national limits.
Kama Automobile even tampered with the pollution control devices of 318 units of heavy diesel trucks, so that the vehicles would not set off an alarm even if the diesel exhaust fluid was not up to standard, which increased the emission of pollutants.
The ministry heavily punished Kama for its illicit behavior, confiscating illegal gains of some 720,000 yuan and handing out a fine of 30.49 million yuan, which is twice as much as the trucks' value.
Emissions cheating is a serious offence in the automobile industry both at home and abroad.
German auto giant Volkswagen faced a great deal of accusations and huge claims over its failure to meet emissions standards.
In September 2015, the United States Environmental Protection Agency pointed out that Volkswagen installed cheating software in some diesel vehicles to pass the emission inspections, but the actual exhaust emissions were severely over the limit.
VW admitted that about 11 million diesel cars were involved, most of which were models powered by the EA189 diesel engine, covering its four brands: Volkswagen, Audi, Skoda and Seat.
In June 2018, the procuratorial department of Braunschweig, Germany fined Volkswagen 1 billion euros ($1.12 billion). Volkswagen accepted the punishment and waived its appeal.
However, Volkswagen's emission cheating issue has not come to an end. Porsche, a luxury brand of the auto giant, was punished on Tuesday.
Prosecutors in Stuttgart said that Porsche will pay 535 million euros in fines for installing cheating software to pass emissions inspection.