Smart cars put China's auto industry on fast track
Share - WeChat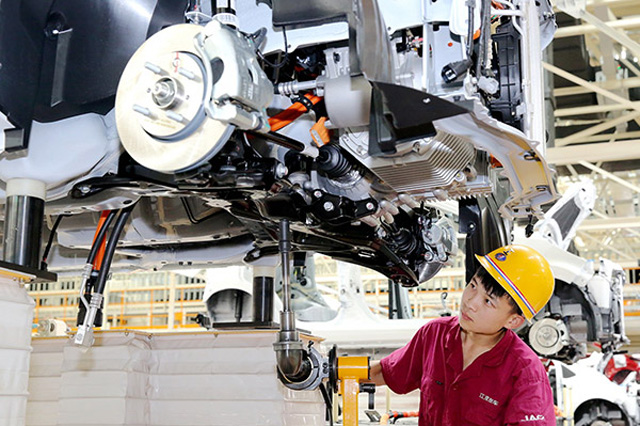 CHONGQING -- In front of the exhibition center of Chongqing Chang'an Automobile Co Ltd, a vintage green car stays quiet. It is the first Jeep manufactured in China. Next to it proudly stands a brand-new car installed with auto-pilot system, which hit the market in March.
"The same Jeep model was produced for five consecutive years since 1958," said He Jugang, with the car-making company based in Chongqing in Southwest China. "But these days, things are completely different: if a car-maker fails to make several new models in a year, risks will mount."
Chinese car-makers are feeling the pinch in the market. According to the China Association of Automobile Manufactures, in 2018, China's auto sales recorded the first ever annual negative growth. In the first two months of this year, auto sales also decreased compared with a year ago.
Chang'an Automobile Co. Ltd., one of the major car-makers in the country, faces similar problems. To push the envelope, the company has made inroads in the smart car sector, hoping to give a boost to its development.
"This car is equipped with the most advanced auto-pilot system in China, and the technology can even compete with our international peers," said Liang Fenghua, with Chang'an's smart car research institute, referring to the company's latest smart car model. Liang said that some customers were cautious before driving the advanced car models, but their suspicions were wiped out by the models' performance.
Like Chang'an, many car-makers in China are stepping into the smart car sector, trying to snap up more shares in one of the world's biggest auto markets.
In East China's Anhui province, Anhui Jianghuai Automobile Co Ltd, another domestic car-making giant, has teamed up with China's search engine Baidu to develop cars with auto-pilot systems.
"We started working with Baidu in 2017, and we jointly developed car models with auto-pilot functions," said Wu Qiong, with JAC's smart car research institute. Baidu has worked with many Chinese car-makers in the sector.
JAC's self-developed smart car networking system allows multi-media functions to be connected in cars, providing news and information. The system has been installed in car models already in mass production.
JAC also focuses on smart buses. In late 2017, the company's subsidiary Anhui Ankai Automobile Co Ltd developed a self-driving bus. The bus models have been put to use on roads in a bonded area in the southern metropolis of Shenzhen, becoming the world's first self-driving buses to operate on public roads.
"We may not be that competitive in gearboxes and vehicle control in traditional car making, but we definitely have an edge in smart car making," said He Jugang.
Last month, China's leading car-maker BYD signed strategic cooperation agreements with Chinese tech firm Huawei in Shenzhen, Guangdong province. The two companies agreed to conduct deep exchanges in areas such as smart car networking and smart driving.
"China has one of the world's most abundant resources in application and in smart car networking, and we can do much more and much better in smart car making," He said. "We have accumulated experience, and we will invest more in research and development in this regard in the future."