Hydrogen fuel cell technology put on solid development path
Share - WeChat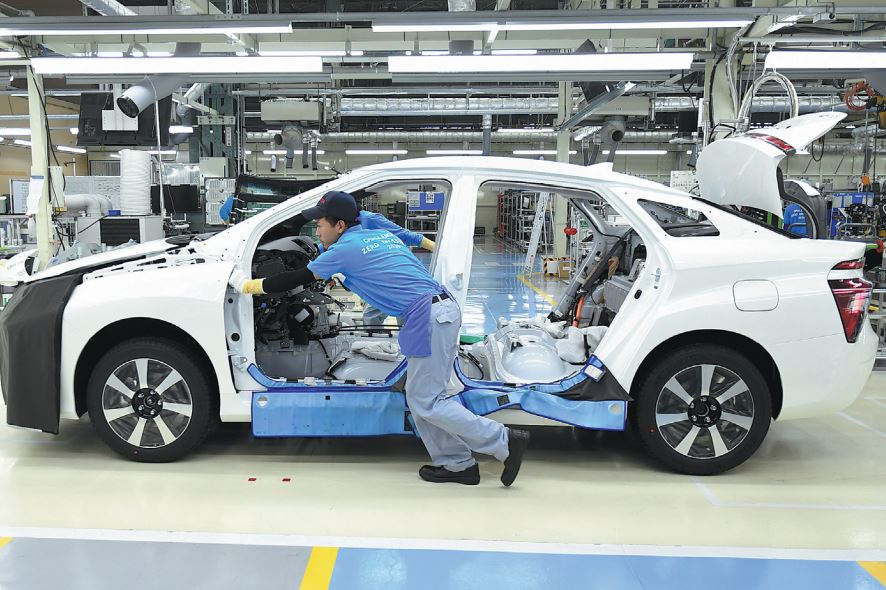 Government reinforces intention to cooperate with big-name industry players
The future role of hydrogen fuel cells in China's fast-changing automotive industry was made clearer by the Ministry of Industry and Information Technology on Tuesday, with it detailing the government's latest development prospects for the technology.
"Hydrogen fuel cell vehicles will coexist and complement fully electric vehicles, jointly meeting the people's transportation needs," said Huang Libin, spokesman for the ministry, at a news conference held by the State Council Information Office in Beijing.
Both hydrogen fuel cell vehicles and fully electric lithium battery vehicles are important technical routes for new energy vehicles, Huang said, adding that based on their technical characteristics and development trends, fully electric vehicles have so far proved more suitable for passenger cars travelling within the city limits, while hydrogen-powered vehicles suit large commercial vehicles, such as buses and trucks, used over longer distances.
His words were echoed by Yale Zhang, managing director of Shanghai-based consulting firm Automotive Foresight, who said that the large differences in costs in applying the different technologies across different applications is proving complementary rather than competitive.
The advantages of hydrogen fuel cells is that they produce zero emissions, enable longer distance driving and require little time to refuel.
However, safely storing hydrogen is a key technological challenge, as well as there being a lack of supporting infrastructure, laws and regulations.
Hydrogen lags far behind electric both in terms of infrastructure and commercialization.
"The Ministry of Industry and Information Technology will carry out demonstration runs of hydrogen fuel cell vehicles together with other departments, with the aim of promoting innovative development in China's hydrogen energy and fuel cell vehicle industries," Huang said.
His remarks are the latest made at State-level on the market prospects of hydrogen fuel cell vehicles, reafirming the government's intention to cooperate with bigname automakers on developing this segment of the market.
Japanese auto giant Toyota - one of the first automakers to develop hydrogen fuel cell vehicles - established a joint research institute with Tsinghua University on April 21, working on hydrogen fuel cell technology. The next day, on April 22, Toyota joined hands with Foton Motor Group and Beijing SinoHytec, a high-tech enterprise focusing on the R&D and industrialization of hydrogen fuel cell engines.
The cooperation will see the hydrogen-powered buses produced by Foton Motor coupled with Sino-Hytec's hydrogen fuel cell power system which uses Toyota's hydrogen fuel cell stack and other components and parts.
"Foton's fuel cell bus will serve the 2022 Beijing Winter Olympics," said Xu Heyi, the chairman of BAIC, parent company of Foton, at the two sessions this year.
"BAIC Motor will step up the development of hydrogen products in commercial vehicles."
With its experience accumulated in hydrogen fuel cell technology, Foton has developed the fourth generation of its hydrogen fuel cell buses, adding advanced safety features and vehicle layout design in line with international standards.
The automaker is collaborating with related enterprises on hydrogen manufacturing, storage, transportation, the construction of hydrogen refueling stations and developing more hydrogen fuel cell vehicles, aiming to forge a whole industrial chain.
The collaboration between Toyota and Foton is expected by insiders to extend to a full range of models, including passenger cars, vans, and light and heavy trucks, providing a valuable foundation for next-generation commercial vehicles.
SAIC Maxus unveiled China's first hydrogen fuel cell passenger car - the Maxus G20FC - at the 2019 Shanghai auto show.
The model has a maximum driving range of 550 kilometers under the standard of the New European Driving Cycle, known as NEDC, and can be refueled from empty to full in five minutes.
Xu Qiuhua, general manager of SAIC Maxus, said as the ultimate solution to pollution caused by automobiles, hydrogen fuel cell vehicles will play a key role in the development direction of the automobile industry.
However, compared with Europe, North America, Japan and South Korea, who have already made substantial progress in developing hydrogen fuel cell vehicles, China still has a long way to go.
"Developing hydrogen fuel cell vehicles strongly relies on core technologies and supporting infrastructure, so it will take China at least 10 to 20 years to completely realize the industrialization and commercialization of hydrogen fuel cell automobiles," said Zhang from Automotive Foresight.