Smart and shapely, 24/7
Share - WeChat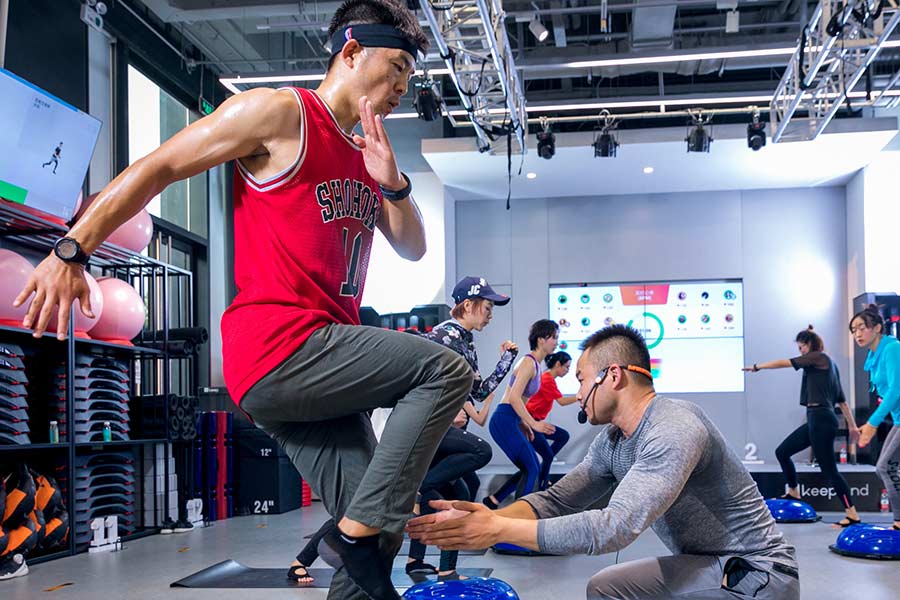 "I 'm not a gym person. I'm not given to regular workouts because I have no fixed 'spare time'.
"That apart, given a choice between spending, say, 3,000 yuan ($447) or 4,000 yuan on an annual gym membership and blowing up a similar amount of money on cosmetics, I might probably plump for the latter."
Well, that's me speaking in my previous life.
Fast forward to my new life. It started suddenly sometime last year, when my friend May Zhang introduced me to an app-backed gym.
When Zhang first asked me to join her in a fitness class at the gym, her recent discovery, I was reluctant. Embarrassed to say no, I decided to accompany her anyway. After all, the first class cost only 29 yuan.
As places were limited, we made our reservations online well in time. When we arrived at the cutesy gym, I was pleasantly surprised to see how popular the place was among its users.
The workout session was really satisfying. The instructor was meticulous, insightful and helpful. The music was exciting, the atmosphere electric, and temperature a bit warm. Soon, we found ourselves swimming in sweat.
After the fitness class, people crowded into the equipment area. Some hit the treadmills, and some others lifted weights.
"The gym is open 24/7. You can visit it whenever you have time. Once you get a membership card, you can go to any of their branches anytime," Zhang told me.
I attended another such class at a similar gym near my home. That did it-I paid up for the first gym membership card of my life.
The monthly subscription cost me 129 yuan. The facility offers all the advantages of a traditional gym. In addition, I enjoy its app-backed flexibility.
During weekdays, I work out at a branch near my office. Weekends, I settle for the one near my home. If I'm traveling, I figure a convenient branch.
Han Wei, founder of LeFit, a Hangzhou-headquartered app-and website-backed gym, is proud that the nearly 500 branches countrywide work like a fitness-sharing platform. "The platform detects user activity, accumulates and analyzes data, collects user feedback, as well as optimizes resources. Through these processes, we enhance user experience.
"The turning point in the development of China's fitness industry has arrived. Intelligent small gyms based on monthly subscriptions are going to be the future trend. The fundamental requirement for gyms is to offer consumers good service, to enhance user stickiness. Our goal is to make more people enjoy our low-threshold, convenient fitness service."
In the past three years alone, LeFit opened more than 400 branches in eight cities, attracting over 6,000 instructors and 3.2 million users.
Will's, a traditional gym established more than 20 years ago, has 120 branches and 800,000 users.
Market insiders said the digital age has created consumer demand for flexible, low-cost, and high-quality fitness options. This coincides with rising rental and manpower costs of traditional gyms that offer only annual membership.
So, app-based gyms, which offer monthly membership and more flexible choices, appear set to ride the boom time ahead.