Hydrogen to reshape clean energy drive
Share - WeChat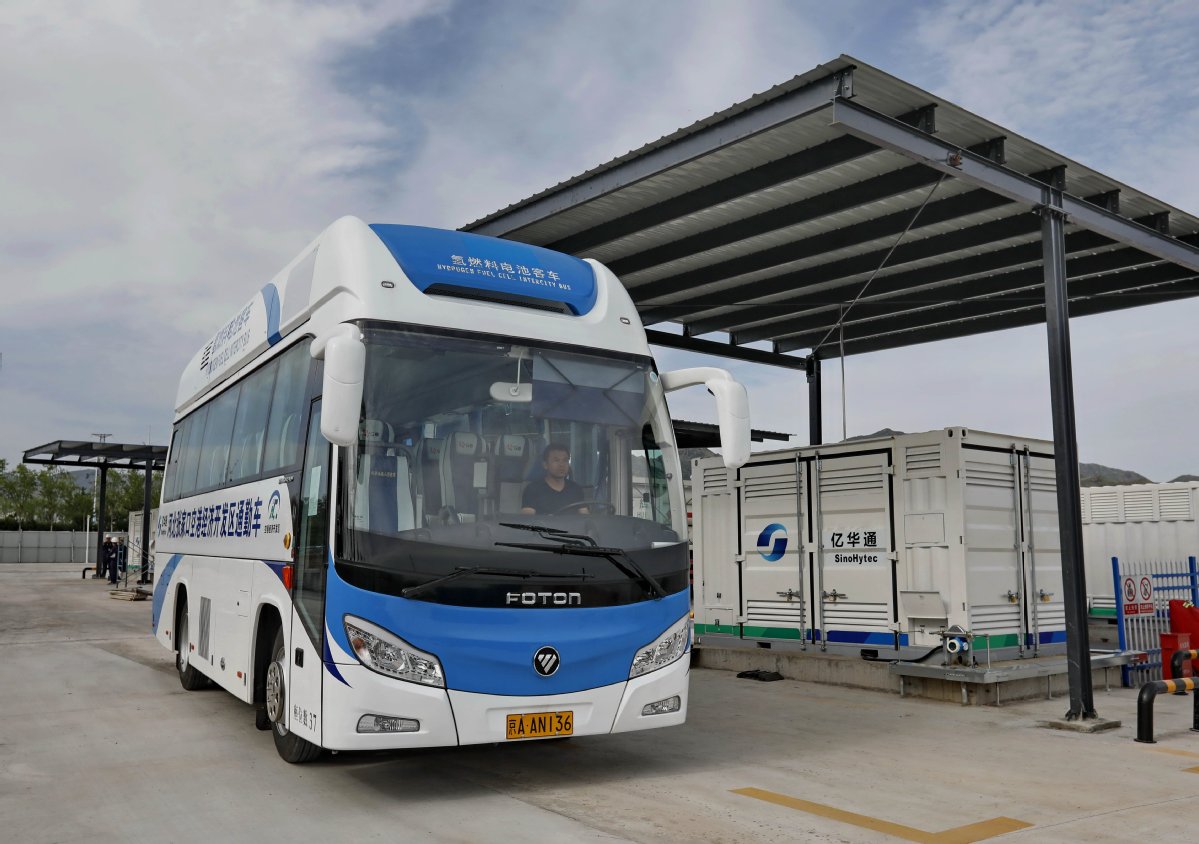 Zhangjiakou city cuts carbon emissions by using green fuel in public transport
After driving hydrogen fuel cell buses for months, driver Cai Lijun summarized some advantages of the new-energy vehicles operating in Zhangjiakou city, North China's Hebei province.
"It's easier to operate, and there is no need to change gear manually when frequently stopping and starting at bus stations," he said.
Cai had driven gasoline buses for six years before July last year when Zhangjiakou introduced 74 hydrogen fuel cell buses and was hired as one of the drivers.
He said his passengers feel more comfortable in the hydrogen-powered buses since there's no smell of exhaust.
The hydrogen fuel cell vehicles, powered by electricity generated by compressed hydrogen fed into fuel cells, is clean with zero-emissions.
"Hydrogen is a clean fuel that, when consumed in a fuel cell, produces only water, electricity and heat," said Sunita Satyapal, director of the US Department of Energy's Fuel Cell Technologies Office, who describes hydrogen as a clean and flexible energy carrier.
Each hydrogen fuel cell bus can help reduce the use of gasoline by 17.96 metric tons each year, cutting the carbon dioxide emissions by 55.5 tons, according to a plan (2019-35) for Zhangjiakou developing hydrogen energy industry.
As a joint host of the 2022 Winter Olympics and China's first national-level renewable energy demonstration area, the city is betting big on the industry.
According to Sunita Satyapal, hydrogen can be produced from diverse resources, including fossil fuels and electricity that can be produced from renewable sources such as biomass, geothermal, solar or wind.
"Zhangjiakou has abundant renewable sources including wind and solar energy, which is the advantage to develop hydrogen energy industry," the plan said.
By 2021, Zhangjiakou will put into use about 3,000 such vehicles and 31 hydrogen refueling stations, while the annual hydrogen output will reach 21,000 tons, according to the plan.
A whole industrial chain will be formed by then, including hydrogen production and storage, refueling stations, the manufacturing of hydrogen fuel cells and vehicles.
Apart from Zhangjiakou, hydrogen fuel cell vehicles are being promoted in several cities in China, including Beijing, Shanghai and Foshan in Guangdong province.
Last year, a total of 1,527 hydrogen fuel cell vehicles were sold in China, a year-on-year increase of 20 percent, according to Wang Fengying, chairman of Great Wall Motor Co Ltd, one of the country's largest sport utility vehicle and pickup manufacturers.
The Chinese government has set a goal to have 5,000 such vehicles on its roads by 2020, 50,000 by 2025 and 1 million by 2030, Wang said.
"However, the growth rate of hydrogen fuel cell vehicles in China is far behind new energy vehicles' total sales volume, which increased by 61.7 percent year-on-year in 2018," said Wang Fengying, who was also a deputy to the National People's Congress.
"A big challenge for promoting hydrogen fuel cell vehicles is the lack of refueling stations, which have high construction cost and are slow to show profit," Wang said.
Zhangjiakou HyPower New Energy Technology Co, a hydrogen energy technologies developer and related service provider in Zhangjiakou, invested about 10 million yuan ($1.5 million) on the city's first hydrogen refueling station for its 74 hydrogen fuel cell buses.
"We haven't seen profit yet after months' demonstrational operation because there are not many such vehicles in demand yet," Xie Tian, a deputy general manager of the company, said.
China has around 20 hydrogen fuel stations in operation so far, ranking behind other countries and regions.
By the end of 2017, about 328 hydrogen fuel stations were in operation around the globe, including 139 in Europe, 118 in Asia and 68 in North America, according to Wang.
"The slow pace in constructing refueling stations will limit the development of hydrogen fuel cell vehicles," Wang said, adding that measures should be taken to change the situation.
This year's Government Work Report, released in March, stated that the country will promote the construction of electricity recharging and hydrogen refueling infrastructures.
"This is the first time that hydrogen is written in the work report, a sign that the country will promote such vehicles," said Xie.
By 2020, China will have 100 hydrogen fuel stations, 300 by 2025 and 1,000 by 2030, Wang quoted the Technology Roadmap for Energy Saving and New Energy Vehicles released by China Society of Automotive Engineers in 2016 as saying.
She said the country's core technology of hydrogen energy is backward, noting the key equipment parts for hydrogen's production, storage and refueling are relying on imports.
"Supportive policies should be formulated to speed up the research and development of technologies and promote the construction of hydrogen fuel stations by increasing subsidies and lowering the difficulty for construction approval," she said.