Govt cuts subsidies for new energy vehicles
Share - WeChat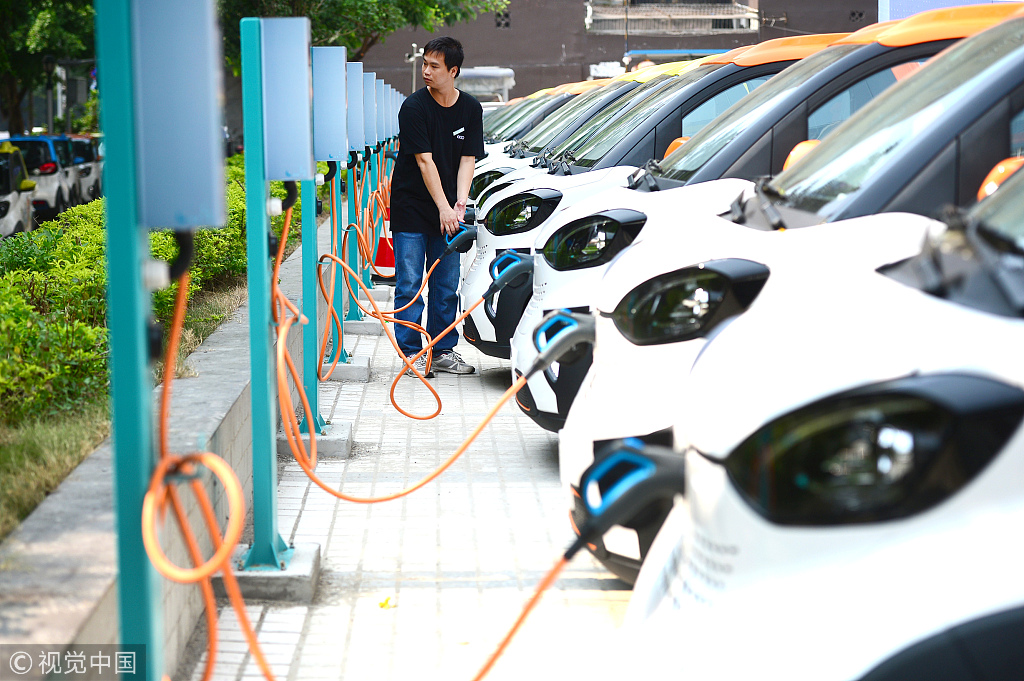 China is slashing subsidies on new energy vehicles and requiring local authorities to invest in charging infrastructure as part of its efforts to boost the competitiveness of local manufacturers in the world's largest automotive market.
To qualify for any subsidy from the central government, electric passenger cars, which account for the majority of new energy vehicles, need to have a range of at least 250 kilometers, up from 150 km last year, according to a document the Ministry of Finance issued on Tuesday.
The subsidy for those with a driving range of 400 kilometers and above will be cut by half from 50,000 yuan ($7,446.5) to 25,000 yuan, while those running between 250 km to 399 km will receive a subsidy of 18,000 yuan. Last year, they could receive 34,000 yuan to 45,000 yuan.
Before the new plan takes effect on June 26, qualified vehicles can receive subsidies at 0.6 times the rate in 2018, somewhat higher than the new rate, offering carmakers and buyers a three-month grace period.
The move aims to encourage high-quality development, with a focus on supporting technologically advanced products and phasing out the uncompetitive ones, as the effect of scale is emerging and costs are falling, said the ministry.
Yale Zhang, managing director of Shanghai-based consulting firm Automotive Foresight, said: "The measure, which is as expected by many in the industry, will help to force out those which are over-reliant on subsidies and make room for serious companies."
The central government started to offer subsidies in 2009 on new energy vehicles and tens of billions of yuan have been spent so far to help foster customer demand and stimulate the sector's development.
China overtook the United States in 2015 and has since been the largest market for such vehicles.
The central government had warned that it would scale down the subsidies and phase them out all by the end of 2020, without offering details.
Despite the anticipation of a cut, Beijing Electric Vehicle Co, the country's largest electric vehicle maker, said the new plan will bring "some or even great pressure" in the short term, saying it does not rule out the possibility of price adjustments.
"But in the long run, such policies will encourage us to upgrade technology and thus improve the quality of the overall segment," said the carmaker.
GAC New Energy Vehicle Co announced that it will offer incentives on its models to compensate for the subsidy cuts, although the Guangzhou-based carmaker did not say how long its offer will remain in place.
Both Zhang and Cui Dongshu, secretary-general of China Passenger Car Association, said other companies are expected to follow suit and offer their own discounts to prevent retail price hikes, otherwise potential customers will be scared away.
The association estimated 1.7 million new energy vehicles will be sold this year, up from 1.2 million last year.
The finance ministry also demanded local governments in China to stop their subsidies on purchases of electric vehicles and spend them on charging infrastructure, after a three-month grace period starting on Tuesday.
Wang Lei, an analyst at Guosheng Securities Co, said the move will benefit the manufacturers and operators of charging facilities in the short and medium-term.
"Charging poles and hydrogen stations will be poised for a boom," Wang said in a research note on Wednesday.
Cui believes the shift of local governments' subsides from cars to infrastructure will encourage car purchases.
"Of course it is better that your cars have a longer range, but if you don't, the mere fact that poles are there will alleviate your anxieties somehow even if you don't use them so often."
China had 866,000 charging poles by the end of February, up 76.8 percent year-on-year, according to the China Electric Vehicle Charging Infrastructure Promotion Alliance.