China showing it means business on environment
Share - WeChat It appears that China's high-speed train of economic growth will not give pollution any free rides.
The country has been playing catch-up on cleaning up its air, as the government realizes that a booming economy that simultaneously degrades the environment is not worth it.
Li Ganjie, China's minister of ecology and environment, addressed such issues at a news conference during the second session of the 13th National People's Congress on Monday.
He said that some local governments had relaxed their environmental protection efforts.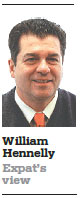 "Once we find such cases, we will resolutely stop them and hold officials fully accountable," he said. "To muddle through checks by the central government's environmental inspections, some local authorities choose to shut down companies with polluting records at the last minute, before the inspections."
The ministry will also intensify controls in accordance with the Three-Year Action Plan for Winning the Blue Sky Defense Battle. Li said measures will be taken to optimize the structure of industrial production, energy consumption, transportation and land use, adding that such actions are crucial to improving air quality.
Li said China's air quality improved last year, with 338 major cities reporting good air quality on 79.3 percent of days on average, up 1.3 percentage points year-on-year.
The Beijing-Tianjin-Hebei region saw PM2.5 - fine particulate matter - fall 11.8 percent year-on-year, Li said. PM2.5 is an air pollutant that becomes a health concern at high levels. At elevated levels, its tiny particles make the air hazy.
"At present, the PM2.5 concentration in Beijing still fails to meet national ambient air quality standards and far exceeds the levels recommended by the World Health Organization, and heavy pollution episodes still occur during autumn and winter," said Yu Jianhua, deputy head of the Beijing Bureau of Ecology and Environment.
A report released Saturday by the UN Environment Program and the bureau outlined how the capital's air quality program has evolved. The review - 20 Years' Air Pollution Control in Beijing - was compiled by a UN-led team of international and Chinese experts, covering the period from 1998 through 2017.
The bulk of Beijing's air pollution in 1998 came from coal combustion and motor vehicle exhausts. By 2013, levels had fallen for some pollutants like carbon monoxide and sulfur dioxide, and met national standards.
By the end of 2017, PM2.5 had dropped by 35 percent in the city and 25 percent in the greater Beijing-Tianjin-Hebei region. Much of the reduction came from controlling coal-fired boilers, providing cleaner domestic fuels, and from industrial restructuring.
In northern China's Shanxi province, coal firms are switching to new energy and new materials. Shanxi has phased out 88.4 million metric tons of coal capacity and accelerated new energy development in the past three years.
Auto emissions are another issue China is addressing. Deputies from China's top automakers submitted comments to the 13th NPC covering the new-energy vehicle industry and clean-burning fuel.
Yin Tongyue, chairman of Chery Automobile in Wuhu, Anhui province, said his company is considering hydrogen fuel.
"As a zero-emission and pollution-free new energy, hydrogen fuel is an inevitable choice for China to conserve energy, cut emissions and develop the automobile industry," Yin said.
"Hydrogen energy should be promoted as a national development strategy to aid its industrial development."
The environment and climate change have become major political issues around the world. In the United States, some states such as California pursue their own environmental policies. California has said it will adhere to the 2015 Paris Agreement on climate change, even though the US has withdrawn from the pact.
In June 2017, California and China's Ministry of Science and Technology signed a nonbinding agreement calling for investment in low-carbon energy sources, cooperation on climate research and commercialization of cleaner technologies.
What appears to be a gradual but steady move away from petroleum-based fuels and coal-burning can also create seismic economic shifts. Nations need to gradually manage the transition to more ecologically sound industrial practices without causing too much economic upheaval.
As that shift reaches critical mass, and industries such as electric vehicles and solar power emerge to meet demand, then the world's economy and ecology can be more peacefully aligned.