BRI gives students new horizons
Share - WeChat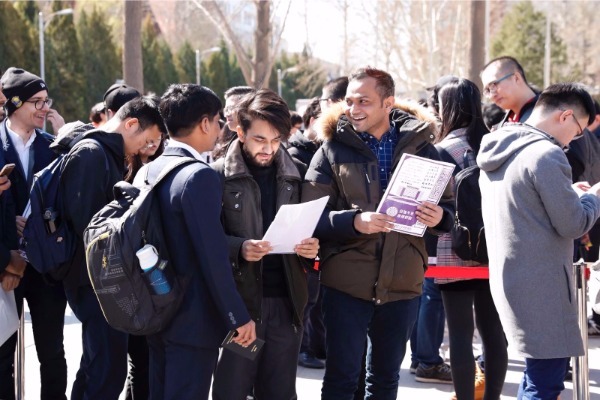 Project attracts widespread interest at job fair as potential candidates seek exciting opportunities, Xing Wen reports.
On March 21, the Comprehensive Gymnasium of Tsinghua University was packed with job hunters from various educational backgrounds with resumes ready for prospective employers. The job fair hosted by the university had booths for more than 300 companies and institutes.
Mei Li, 23, a postgraduate student from the China University of Geosciences, looked carefully at the job vacancies listed. When she found a position that seemed to suit her, she would stand in line waiting to talk with the recruiters and leave a resume, then move on to the next booth.
"I am seeking a job in the African branches of these Chinese companies as I want to build a career in a foreign land with a fascinating, mysterious and rich culture," says the geological engineering major.
To make things more convenient for job seekers like Mei who are interested in overseas job opportunities, Tsinghua University has for the first time prepared a special zone for companies involved in the Belt and Road Initiative, and marked their booths with special signs.
Over 1,000 jobs available in overseas projects were offered by about 40 companies, covering fields like manufacturing, financing, construction and telecommunications, according to Zhang Chao, the director of Tsinghua University's Career Development Center.
"With the deepening of the Belt and Road Initiative, it requires a large number of talented people to contribute their efforts and wisdom. We also found that quite a number of our graduates are now working in BRI-related projects overseas," Zhang says. "So we decided to gather the resources to better serve the job seekers, thus a special zone for BRI-related companies was designed for this job fair."
Tsinghua University says more than 3,600 students who study there and at other universities have attended the job fair in search of their dream job.
Most Popular