A champion who understands the power of words
Share - WeChat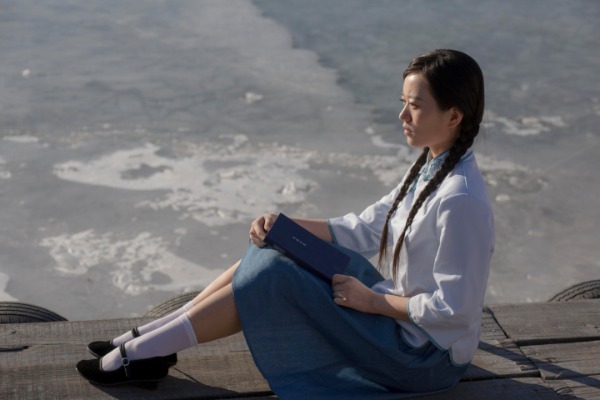 Despite claiming to not being "a fan of contests", Chen Geng, the reigning champion of the Chinese Classical Poetry Quiz Show, impressed the audience by participating in all four seasons since the show's debut in 2016.
Clad in a blue shirt and black skirt, the 26-year-old pig-tailed doctoral student of robotics from Peking University was always eager to press the button to deliver answers. She took the show, that has been watched a total of 2.1 billion times across numerous platforms worldwide, by storm.
"When I stood on stage, I was very excited, feeling like every cell in my body was boiling, because I was talking about what I cared deeply about," she says.
Chen fell in love with poetry just a few years before when she was a 21-year-old postgraduate. An avid reader, she accidentally picked up a book about the Tang Dynasty (618-907) poems written by Jiang Xun. She was entranced.
Most of her free time was spent reading and reciting ancient Chinese poems - before breakfast, on subways, and during summer and winter vacations. A couple of years later, she applied to take part in the poetry quiz show to test her capabilities.
Her favorite poems are about "standing aloof from worldly affairs" and she enjoys "the purity of nature and the tranquility of life in solitude".
She recites a poem, Autumn Evening in the Mountains, by Wang Wei from the Tang Dynasty: "After fresh rain in mountains bare, autumn permeates evening air. Among pine-trees bright moonbeams peer; O'er crystal stones flows water clear (translated by Xu Yuanchong)."
She is the only contestant to have been on the show every season since 2016. She says she did worry if the audience would get tired of her face.
"The audience must have thought: 'It's her again.' But I decided to come, because I believe the time you can be fully devoted to poetry is limited and I cannot hold it until I enter the workforce or until I become a busy wife and mother."
The poetry world seems far away from Chen's academic study. Her specialty is to develop wearable smart devices for rehabilitation purposes.
Yet, Chen says her poetry-reading and her major did not contradict each other. "Sometimes I would feel stressed when confronting difficulties in scientific research. Poems gave me comfort," she says.
Peking University offered an accommodating environment for students to expand their various capabilities besides their respective academic fields, according to Chen. There are poetry clubs, debate and public speaking associations and other culture-related societies or groups for students to choose from.
"I really appreciate the academic atmosphere at the university, which enables us to do what we like freely, with an open and inclusive attitude," Chen says.
She became a celebrity due to the poetry show. She hopes to influence more people, especially encouraging teenagers to foster a keen interest in poems. Chen published her first book about her thoughts and understandings about poetry in 2017. She also writes a regular column for Beijing Evening News and discusses Chinese poems on Tik Tok, a popular video-sharing app in China, on which she has over 130,000 followers.
"Reading poems opens the door to a new world, which has no boundaries," Chen says.
Her tips for those starting to read poetry are simple. Start with what touches you most, then expand your reading to wider domains.
"When I was a beginner, I felt ancient Chinese poems' beauty even though I could not understand the exact meaning of each sentence."
Reading opened her eyes to sensitivity, as Chen says she could be able to "find fun" in the change of seasons in "When roseleaf raspberry fades, comes the end of flowers all; only the trailing plants appear over the mossy wall", from Visiting a Small Garden in Late Spring by Wang Qi from the Song Dynasty (960-1279), also translated by Xu.
Chen confides: "You should truly get close to it, immerse yourself in it and appreciate it, but not use it, ever, just to adorn yourself."