Finnair links the planet's digital leader with the happiest nation
Share - WeChat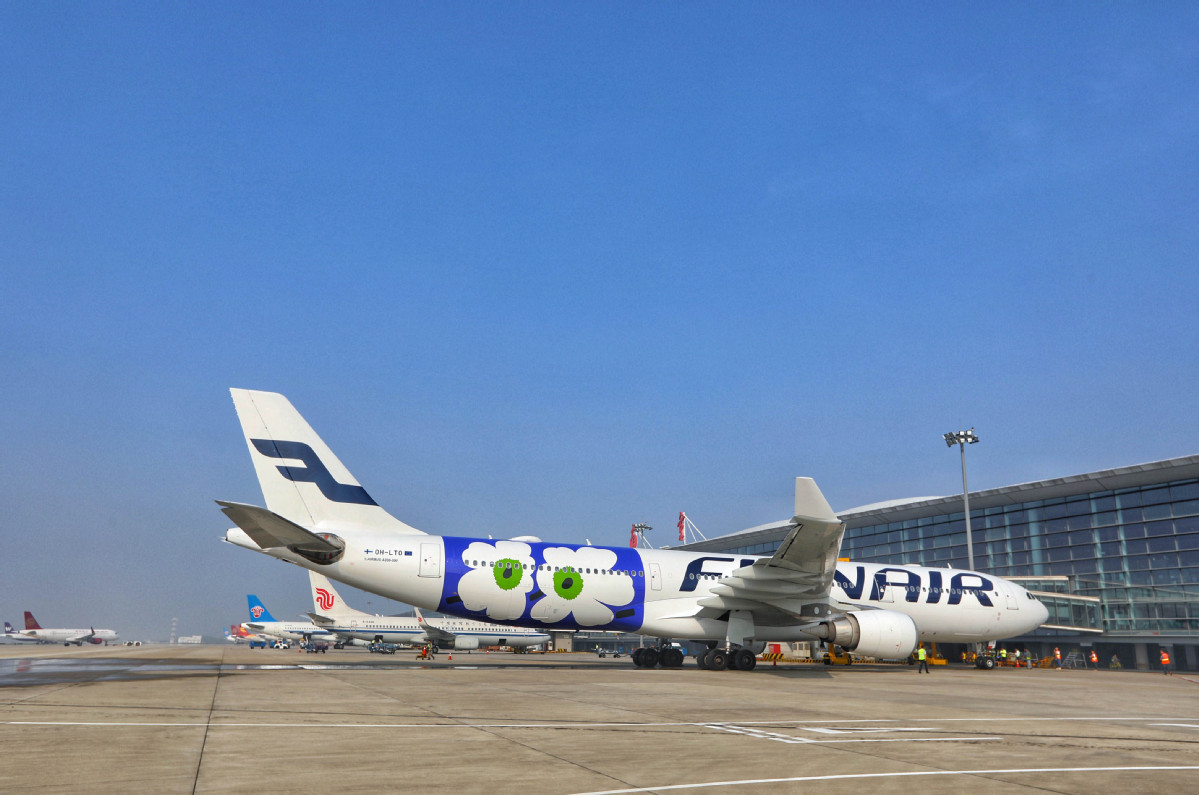 Finnair, a Nordic airline that entered China in 1988, said digitalization and innovation are in its DNA and genes, which is why it is able to keep innovating in the fast-moving China market, one of its top three markets besides Finland and Japan.
In 2017, Finnair became the first airline globally to introduce mobile payment option Alipay in its flights between China and Finland.
The airline has seen a significant increase of in-flight sales of duty-free products in the past two years, and the airline has also tailored the product offerings to suit Chinese passengers.
"China is a leading country in the world in terms of digital services, and China is a very important and exciting market for us. We have seen the country evolve in digital services. Finnair is well-positioned in digitalization, and this is something we want to capitalize on, going forward," said Topi Manner, CEO of Finnair.
"People are digital in China. It's natural for us to collaborate with local players and then offer Chinese customers convenient and familiar digital payment options," he said.
Currently, Finnair has direct flights that connect Helsinki and Beijing, Shanghai, Chongqing, Xi'an, Nanjing, Guangzhou and Hong Kong. The airline said demand from China is growing continuously, including growing business and tourism passengers from second-tier cities.
With summer approaching, Finnair said it plans to increase the capacity of its flights between China and Finland by 12 percent. The carrier will double the number of daily flights between Hong Kong and Helsinki, and it will also increase the frequency of its operations between Guangzhou and Helsinki to four flights a week. Both routes will be operated by the wide-body Airbus A350 aircraft.
"About 60 percent of our traffic comes from transfer flights. We are all about connecting Europe and Asia. The short northern route and the geographical location of Helsinki is really appealing to customers in East Asia," Manner said.
In 2018, the number of Chinese tourists who visited Denmark surged 120 percent year-on-year, and those to Finland rose 77 percent, according to a report by Ctrip and the China Tourism Academy, which did not disclose specific numbers.
Most of them went to Helsinki as well as Lapland, to watch aurora, or Northern Lights natural phenomenon, and tour around Santa Claus Village, said the report.
Last year, Chinese visitors stayed 385,000 nights in Finland, which has been recently voted as the world's happiest country for a second year in running. They outnumbered tourists from Russia, Germany, the United Kingdom and Sweden, according to Business Finland, a public funding agency in the country.
"Winter is also a very important season for us. With the Beijing 2022 Winter Olympic Games coming up, 300 million Chinese are expected to start practicing winter sports. Finland has quite a bit of expertise in winter sports. Winter tourists to Lapland have been increasing really fast in the past few years," Manner said.
"When we look at the Europe-Asia traffic, there is increasing competition, capacity and demand. We are absolutely confident in the growth potential of the China market. We see growth opportunities, and we will extend our reach with local partners," he said.