Helping corporate China to digitalize
Share - WeChat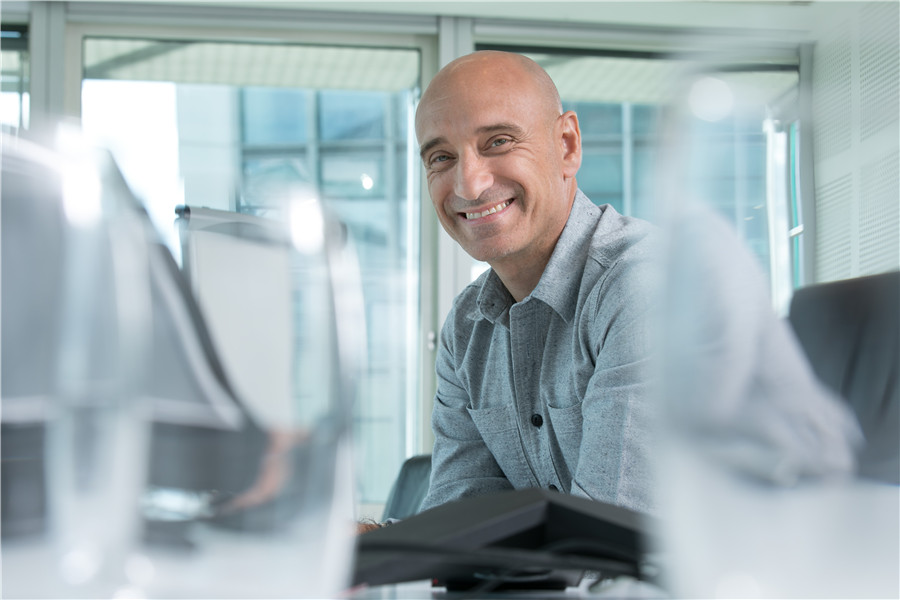 Omar Abbosh leads Accenture's efforts to support innovative new businesses
Omar Abbosh, 53, chief executive of global consultancy Accenture's communications, media and technology group, believes the China market is going to be key to the company's growth prospects in the new era.
And he is intent on bringing his distinct vision and leadership style - more about that in a bit - drive the company's efforts to grow globally by first shining in China.
The country has wrested a world-leading role in artificial intelligence. This, he said, presents huge development opportunities for Accenture, which provides a broad range of services and solutions in areas like strategy, consulting, digital, technology and operations.
Accenture works at the intersection of business and technology, to help clients improve their performance and create sustainable value for their stakeholders.
Accenture, Abbosh said, is constantly evolving its business model to address the fast-changing needs of its clients and the market, particularly in China.
"China is incredibly important and becoming increasingly more important every day (for us). Our Chinese business is very Chinese, as it is led and run by Chinese people, and populated by Chinese people," said Abbosh, adding he is bullish on the prospects of the company's business in China.
His optimism stems from Accenture's presence in China for over 30 years. It currently employs around 15,000 people to service clients across the region. It has offices in Beijing, Shanghai, Dalian, Chengdu, Guangzhou, Shenzhen and other Chinese cities.
The company is now looking to ramp up its localization efforts in China, and help Chinese enterprises and the government to embrace digitalization and enhance global competitiveness to succeed in a globalized world.
Accenture has invested and will continue to invest in strategic areas of innovation agenda. In the Shanghai Free Trade Zone, Accenture has set up a new holding company and an operating company with a completely new local brand, Shunzhe. The new company, with a registered capital of 70 million yuan ($10.2 million), was created to better serve local markets.
Abbosh accepts projections that China will be the world's largest economy in the not too distant future; and Accenture, he said, plans to increase its investment in China by hiring more staff.
Accenture has already transformed its offerings by incorporating digital, cloud and security-related services, which now account for about 60 percent of its global total net revenue.
In China, the consultancy has been able to maintain high growth and stronger profitability on healthy revenue and substantial market share, all of which rose last year amid a challenging business environment.
To move ahead of the curve, it will continue to support innovative new businesses and startups in China. It has helped Beijing Mobike Technology Co Ltd, China's leading bike-sharing operator, go global through enhanced financial and procurement management, by applying its advanced technologies like Robotic Process Automation.
Accenture has also partnered with Chinese luxury e-commerce company Secoo Holding Limited, helping the latter to achieve operational excellence and transaction volume of $800 million.
"Value is often trapped in enterprises and industries, and enterprises need to make the wise pivot, transforming the core businesses or finding the new businesses," said Abbosh.
A small minority of Chinese companies are leading their industries and achieving higher profits by digitalizing their operations and innovation processes. This approach has helped them to transform their businesses and unlock new growth opportunities, according to a report by Accenture.
Agreed Eileen Smith, program director with market consultancy IDC's customer insights and analysis group. "Industry spending on digital transformation technologies is being driven by core innovation accelerator technologies, with internet of things and cognitive computing leading the race, in terms of overall spend."
Abbosh joined Accenture in 1989 and became a partner in 1998. Before being appointed to his current position in September 2018, he served as chief strategy officer for more than three years, with the responsibility for overseeing all aspects of the company's strategy formulation, strategy implementation, innovation programs and investments.
What makes an organization's leader great is the ability to serve his or her team, attract and motivate the best people, and create the best environment for them, he said.
"Firstly, a leader should be always thinking about how he/she can enable the frontline teams to be more successful with customers, and that is the No 1 thing. Secondly, business would be easier if you have a great team," Abbosh said.
In his view, setbacks are great opportunities to grow, and people should learn from them, and share such lessons with colleagues. His experience includes bringing digital innovation into an enterprise and then scaling it up, transforming operating model, leadership development, M&As, capital allocation and investment management.
"Work is a pivot part of my life, and my work and life come together." Abbosh loves reading and spending time with his children and friends, and also climbing mountains in his spare time.