The ease of rail travel invokes a memory backtrack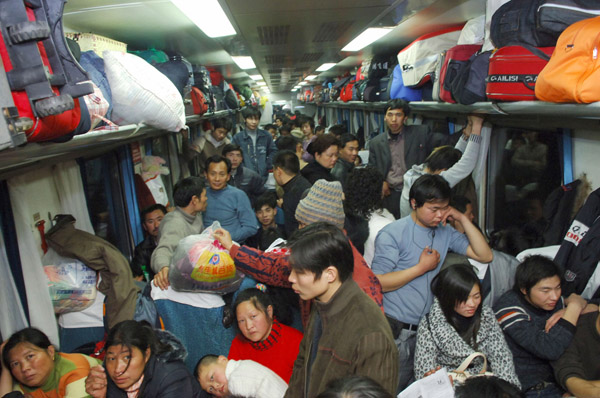 All of it seems just like a dream and far from today's reality. Neither of us have to worry about facing that same struggle again. The subway has seamlessly connected the Beijing West Railway Station to the rest of the capital.
Although the army of train passengers during Spring Festival has consistently grown over the years, it doesn't seem to create the crowded scenes of before, thanks to the greatly increased rail speed and shortened commute time, which, in turn, has obviously increased rail transport capacity.
China's railways are expected to carry 2.99 billion passengers during the Spring Festival travel rush this year, up 0.6 percent year-on-year, according to the National Development and Reform Commission.
It now takes only a few minutes to get to the waiting hall, and we don't have to rush for the train or plan excessively to allow for now unimaginable delays.
Every passenger aboard has a guaranteed seat, so the carriage is a much more spacious and comfortable environment than before, and it now only takes around seven hours to reach our hometown, which is good news for us - I don't have to spend the night wide-awake, arriving ragged and exhausted anymore.
Personally, I prefer rail travel over flights during major holidays.
The train is much less likely to suffer schedule changes and it is much cheaper. Also, software and apps for purchasing tickets have consigned to the dustbin of history the myth that one had to spend the night sleeping near the ticket window to snatch the last few available seats.
Perhaps, more importantly, we don't have to worry about cutting back on snacking or drinking to avoid the use of the toilets.
"Yang, come here," Wang spotted me in the crowd, shaking me from my reverie and beckoning me over.
We stand and chat for a few minutes in the cafe, before casually making our way to the train.
yangfeiyue@chinadaily.com.cn