Tourism growth makes Heping a holiday hot spot
Share - WeChat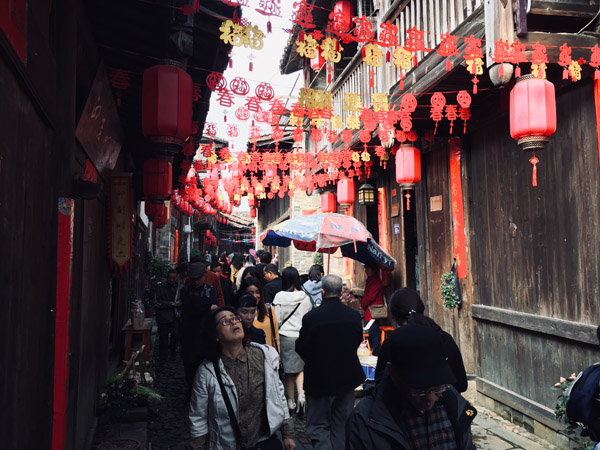 Visitors packed the narrow, cobblestone lanes of ancient Heping town in early February.
Located in East China's Fujian province, Heping turned into a tourism hot spot during the Spring Festival holiday, which took place last week.
Some posed for photos with ancient buildings dating back to the Ming and Qing dynasties (1368-1911), while others were busy purchasing local specialties and snacking at the food stands on the streets.
People had to be really careful to not step on others' feet while taking in the pastoral charm of the town.
Throughout Heping, lion dances, drum beating and ghost-repelling shows were demanding visitors' attention.
"We have seen daily tourist numbers peak at 20,000," says Ke Jing, an official with the town government.
The town hired roughly 50 locals to give folk custom performances for visitors during the Spring Festival holiday. About six shows were presented each day during the weeklong holiday to enable travelers to better enjoy local traditions, Ke adds.
Moreover, a gourmet food street featuring distinctive local snacks, as well as a children's amusement zone, was established to spice up the visitor experience.
Fu Haiying was busy doling out porridge made of lotus seed and lily bulb powder near the entrance of the ancient town.
Every bowl of the porridge was made on spot to ensure it tasted just right.
"Business is great these days," Fu says.
The woman, in her 50s, started selling the porridge during major holidays about two years ago.
"I saw more people coming to visit and my neighbors have been making money by peddling things to them," Fu says.
She had to raise two daughters by herself a decade ago and used to receive government subsidies to keep her family's head above water.
Now, Fu can make 3,000 yuan during the National Day and Spring Festival holidays.