Cultural elements bring vitality to products
Share - WeChat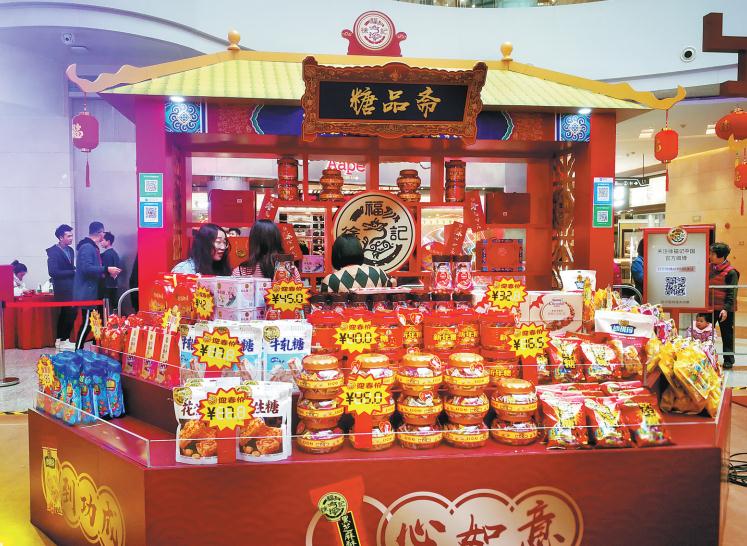 Brands exploit tradition-related themes and IP to pack a punch in marketing
In early January, a shopping center in Guangzhou, capital of South China's Guangdong province, hosted a candy and snack fair themed on the Qing Dynasty (1644-1911).
What made the fair stand out were its red lanterns and candy made using the "royal kitchen method".
Chinese confectionary maker Hsu Fu Chi International Limited, which was acquired by Nestlé Group in 2011, chose this event to kick off its marketing campaign for the Chinese Lunar New Year, which begins on Tuesday.
With television serials about the Qing Dynasty period, such as The Story of Yanxi Palace and Ruyi's Royal Love in the Palace proving popular among the younger generation last year, Hsu Fu Chi has developed a series of royalty-and palace-themed entertainment content and gift packs.
"The move is to better communicate with younger consumers by emphasizing popular traditional elements, given that the atmosphere of Spring Festival or Nian (year) festivities has grown somewhat weaker each year," said Qiao Ruilin, marketing manager of Hsu Fu Chi.
For this year's week-long holiday, Hsu Fu Chi has rolled out 43 varieties of candy, cakes and chocolates. In addition to renovating displays at its offline stores, it has introduced its new products on its online stores.
"The palace-themed packaging is not just to be in line with a recent trend but, more importantly, an attempt to pass on China's significant cultural heritage to the younger generation during the Spring Festival holiday," said Qiao.
Meanwhile, Beijing-based teamaker Xiao Guan Tea has partnered with the Prince Kung's Palace Museum to introduce Spring Festival gift packs of tea, as part of the company's efforts to attract younger Chinese back to tea consumption.
The tea gift packs, themed Good Fortune, are a joint work with one of the most renowned museums, a move showing that Xiao Guan Tea aims to integrate intangible cultural heritage into modern Chinese people's lives, Mei Jiang, general manager of marketing at Xiao Guan Tea, said.
The company plans to develop more products for younger consumers this year. On the anvil are convenient tea packs and colorful wrapping, Mei said.
The age of consumers buying Xiao Guan Tea online is between 18 and 35, lower than the average age of consumers of the traditional tea products, Mei said.
Launched in 2012, Xiao Guan Tea, which sells small-sized and convenient tea packs, has expanded quickly to more than 600 franchised stores and is available at 5,000 other retail stores in the country.
Its e-commerce distribution has expanded to Tmall and JD. In 2018, Xiao Guan Tea's retail sales reached 2 billion yuan ($295 million), making it the No 1 tea brand in the country.
Zhu Danpeng, an independent fast moving consumer goods analyst, said the challenge of selling history-themed products to younger consumers requires new techniques of marketing.
Tradition-related merchandise these days is seen as intellectual property as it can get younger consumers' attention and unlock their purchasing power.
The IP rights of the Palace Museum and the Prince Kung's Palace Museum are part of the rare and renowned resources that have an overwhelming fan base nationwide, Zhu said.
Therefore, it would benefit the brands to be associated with such popular IP, he said.
In addition to working with the Palace Museum on ancient royalty themes, the biggest intellectual property of the year is the adorable pig image, as the 12-month lunar period beginning Feb 5 is regarded the Year of the Pig. It has become the most-sought-after IP for numerous marketing campaigns of retail brands.
For instance, the Disney store launched its Chinese New Year-themed products specially designed for the Chinese market. A large portfolio of products with various characters of pig in Disney's animations was launched by working with licensee partners. The brand crossovers included Lao Feng Xiang's gold accessories and Chow Tai Fook jewelry.
Allen Au Yeung, vice-president of creative and product development in the Asia-Pacific region for The Walt Disney Company, said: "Disney's lovable characters such as Piglet, Pumba, Hamm, Ms Piggy and the Three Little Pigs have been part of many childhood memories across generations.
"With Chinese New Year upon us, a celebratory occasion that brings families together, we are thrilled to bring fans a fun collection of products adorned with these playful characters to usher in the Year of the Pig."
The US-based food and snack maker Mondelez International has also joined the efforts to attract younger consumers with Spring Festival elements in its product design, packaging and marketing.
Holly Yuan, vice-president of marketing, biscuit category, Mondelez China, said various kinds of merchandise for the Year of the Pig have already been launched one after another, in order to let Chinese consumers spend a joyous Spring Festival.
Yuan said consumers have expressed great interest in its Spring Festival series of products with sales higher than that of last year.
"Mondelez China knows that Spring Festival is an important consumption occasion for Chinese people," said Yuan. "Therefore, it puts much emphasis on the product development and marketing for the Spring Festival occasions, and launches novel customized products during this period to win consumers' hearts."
For example, Lu cookies, Mondelez's French cookies, were introduced two years ago in the Chinese market. Lu has joined hands with China's famous fashion photographer and visual artist Chen Man to produce two gift boxes.
The gift boxes reproduced two classic posters of Lu using the modern artistic approach in connection with the elements of traditional Chinese culture.
It is the first time for Lu to be wrapped in red and round shaped package to go with the Chinese New Year atmosphere.
However, analyst Zhu said despite the frenzy in promoting brands with Chinese traditional elements and other kinds of IP like cultural heritage elements, the challenge for such marketing of brands is to maintain the product's top quality, to meet the expectations raised by the new marketing strategy.
"If their product quality is not as exciting and updated as their marketing or packaging, the consumers would not stay with them," Zhu said.