Interim licenses help firms to dip toe in 5G sea
Share - WeChat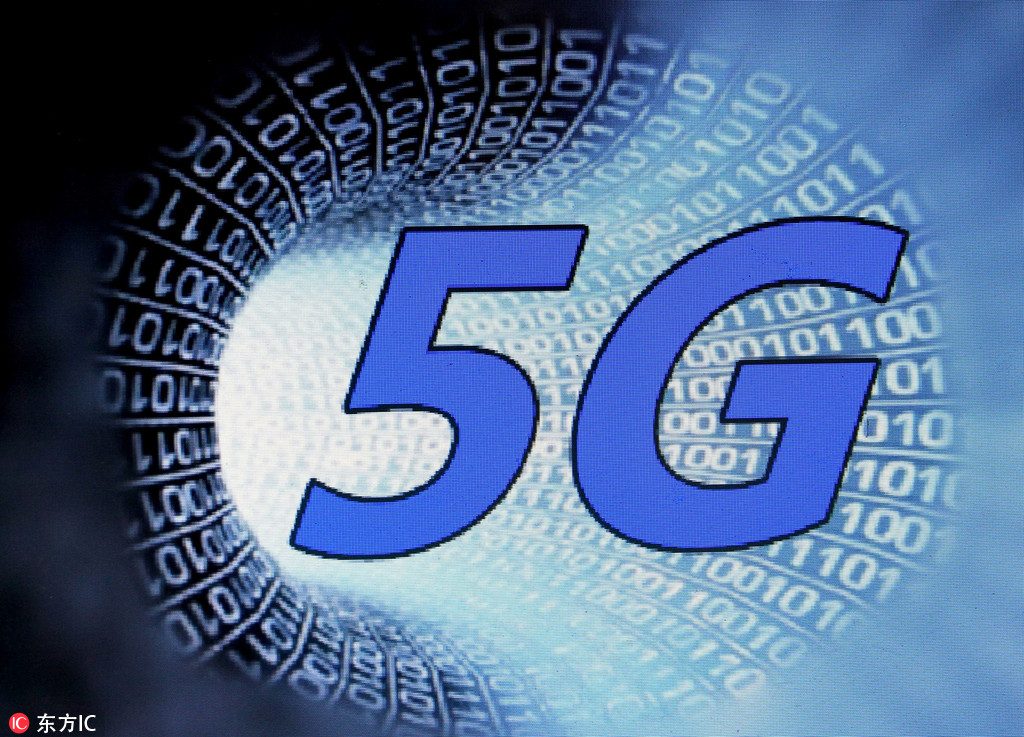 Result will accelerate plans and bring superfast speeds to cities initially, while allowing telecom giants to spread costs
China's plan to issue interim 5G licenses in 2019 will accelerate the maturity of the whole telecom value chain and expedite the commercial use of the superfast technology, but also reflects the financial pressure on telecom carriers which have not yet recouped their gigantic investments in 4G network construction, experts said.
Xiang Ligang, a telecom expert and CEO of industry website Cctime, said interim licenses refer to non-nationwide licenses which can only be applied to key cities for some time.
"The step marks another acceleration in China's efforts to commercialize 5G, but it also indicates that the nation is trying to control the scale and rhythm of rolling out the next-gen network, to avoid too much financial pressure on telecom carriers," Xiang said.
The comments came after the Ministry of Industry and Information Technology, the nation's top industry regulator, said that interim 5G licenses will be issued in a number of cities to enable the large-scale construction of 5G networks in key regions.
Miao Wei, minister of industry and information technology, said in an interview with China Central Television earlier this month that commercial 5G products including smartphones and tablets will hit the market in the latter half of 2019. He said the country also aims to expedite the use of 5G in education, healthcare and other sectors.
Currently, China's big three telecom carriers, China Mobile, China Unicom and China Telecom, are working on large-scale 5G trials and application tests in up to 17 cities, including Beijing, Shanghai, Guangzhou in Guangdong province, and Hangzhou in Zhejiang province. The new 5G systems are expected to be 10 times faster than 4G and will support superfast movie downloads, self-driving cars and the streaming of virtual reality games.
China is eyeing pre-commercial use of 5G this year and official commercialization in 2020.
Investment bank China International Capital Corp Ltd said in a research note that granting interim 5G licenses reflects Beijing's eagerness to push local governments and telecom carriers to further their construction efforts, which is good news for telecom equipment makers including Huawei Technologies Co Ltd and ZTE Corp.
Also in the interview, Miao said he highly values the role 5G plays in ushering in the internet of things era, predicting that 20 percent of 5G infrastructure will be used to connect people with people and the remaining 80 percent to serve the internet of things.
Li Hongtao, an analyst at Caitong Securities, agreed and said that 5G network construction will be faster than expected and telecom carriers will accelerate their steps to build technical road maps.
"Capital spending will grow. Overall, about 100,000 new base stations are likely to be built and investment into wireless networks will also increase," Li said.
In December, the government allocated specific low and medium-frequency bands to the country's big three telecom carriers, which the new products will tune into.
The interim 5G licenses are also encouraging local governments to announce their own plans to accelerate the deployment of 5G networks. Telecom authorities in Beijing, Guangdong, Henan province and other regions have all detailed their efforts.
China Mobile, China Unicom, China Telecom and China Tower Corp, which manages most of the nation's telecom towers, also said in 2018 that they will invest more than 200 billion yuan ($29 billion) over four years to build up cutting-edge 5G information infrastructure in the nation's Yangtze River Delta region. Deals have been inked with local authorities from Shanghai and its three neighboring provinces of Zhejiang, Jiangsu and Anhui.
But the gigantic construction of the sprawling next-gen network infrastructure will demand huge investment, weighing pressure on telecom carriers which have only just poured in considerable resources to build a 4G network.
"The cost of building a 5G base station will at least be 1.5 times that of a 4G base station," said Wang Zhiqin, vice-president of the China Academy of Information and Communications Technology, a government think tank.
As 5G radio waves travel at much higher frequencies, and so have less range, the density of 5G base stations will have to be far higher than 4G, just to cover the same area, meaning that total spending on 5G will be far higher than that of 4G, Wang added.
Fu Liang, an independent telecom analyst, said the coming of interim 5G licenses rather than official licenses this year also reflects how telecom carriers are under grave financial pressure, and want to make the best use of their existing 4G networks to recoup investments, before starting gigantic construction work on 5G.
Earlier this month, China Unicom said it had issued bonds to raise up to 50 billion yuan from investors. Though the company did not specify the use of the raised capital, analysts believe the move is aimed at financing 5G construction.