Sustainability solutions growing on trees
Share - WeChat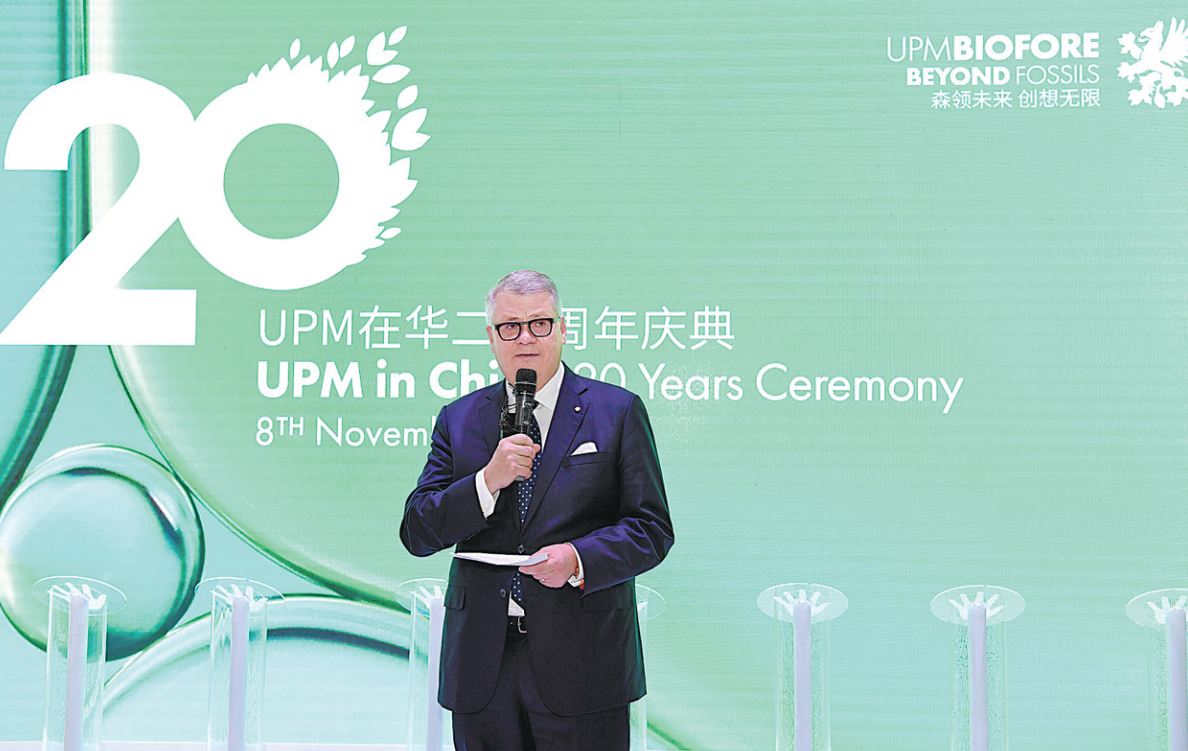 Finnish forest industry giant harvests renewable and biodegradable materials to create recyclable everyday products
Environmentalists would welcome a biofuel car that consumes as little energy as possible, but most would be surprised if it was the brainchild of a papermaker, rather than an automaker.
Finnish forest industry giant UPM has built a car with major components made from biomaterials that can be recycled and reused.
The prototype attracted widespread attention and praise during the China International Import Expo in November 2018, as the company celebrated 20 years of operating on the Chinese mainland.
The move is more than just a fad, but an integral part of a broader ambition to drive sustainability, and the solution is growing in the forests, according to UPM President and CEO Jussi Pesonen.
UPM creates renewable and responsible solutions that replace fossil-based materials by making the best use of residues and byproducts. The company develops thinner and lighter materials, and relies on renewable and biodegradable raw materials to produce recyclable everyday items and materials.
With over $2 billion invested in China, UPM has made Finland's single largest investment in the country. Pesonen said China's economic development has been a driving force for his business and continues to exhibit great potential.
"Today, we can proudly say that China plays an increasingly strategic role in UPM's global development. As China continues its transformation toward a green economy, we provide the most innovative and responsible forest-based solutions that support sustainable development," he said.
In an interview with China Daily, Pesonen talked about UPM's latest forest materials-based car, the changes he has witnessed in China, and the company's business prospects.
What kind of message did you want to convey with the concept car you brought to the China International Import Expo?
UPM is already a large biofuel producer, one of the world's leading plywood suppliers, and a leader in the labeling and biocomposite industries. The Biofore Concept Car is all about promoting the future of UPM.
Our latest brand promise is Biofore - Beyond fossils, so the car is all about using raw materials that are not fossil-based. Compared to traditional cars, the Biofore Concept Car is 30 percent lighter, and many usually fossil-based raw materials have been replaced by bioproducts that are recyclable.
Basically, it is a concept that shows the world that there are alternatives that can replace fossil-based raw materials, i.e. labels, composite materials, plywood and of course biofuels. Meanwhile, all these materials and the biofuel are real, commercialized products.
Are you optimistic about the business environment in China?
President Xi Jinping gave a speech during the CIIE, where he emphasized the importance of expanding imports and China's further opening-up. This message is very much in line with the future development of China and enhances our confidence in the Chinese market.
I think that during the past 20 years, UPM's growth in China has benefited a lot from the country's opening-up. In 2017, UPM's sales revenue hit 10 billion euros ($11.4 billion). The Asian market accounted for about 20 percent of the revenue. China contributed around 10 percent and is still seeing rapid growth.
We have invested $2 billion in China and have established our Asian production base, Asia research and development center, and national sales networks here. Besides, we are bringing in a lot of materials like timber for furniture, pulp for paper, including office paper, hygiene paper and packaging paper, which are important to us as well.
What are the biggest changes you have witnessed in the past two decades?
There are two changes that I am really seeing taking place right now in China.
The first is environmental performance. The green industry is growing all the time, and UPM has had an in-depth understanding and strong expertise since we first came to China. In the past 20 years, UPM has met China's strict environmental standards and continues to introduce advanced global certifications.
Meanwhile, we launched the More with Biofore in China program to seek out cutting-edge technologies to further improve our environmental performance.
The second change is absolutely e-commerce. We have a lot of products, like labeling and pulp, that can support the development of the e-commerce value chain.
What business sectors do you think have high growth potential in China?
UPM's largest business in China is specialty papers. The second-largest when it comes to sales is our pulp business. The third-largest comes from our labeling business, and then we import timber and plywood products.
So basically, five out of six of our business segments are delivering goods to China.
Indeed, all the business segments have their own potential in different ways. For example, specialty papers are growing due to the development of e-commerce, which is leading to the growth of labels. Pulp, fibers and other raw materials also have great potential because they can replace fossil-based materials, which is a future trend.
Are the trends of going green and digitalization affecting your businesses?
We are committed to innovating the best available technologies, and to providing responsible products and solutions that can replace fossil-based materials.
We also meet China's strict environmental standards and continue to introduce advanced global certifications. Even if the requirements get tougher, UPM can cope with that because we have expertise, experience and excellent people here in China.
At the same time, while online media is constantly changing our world, UPM is able to compensate for that decline, because there are still a lot of promotional materials that cannot be replaced.
For example, with the development of e-commerce and the growth of middle-income earners in China, the need for self-adhesive labels is growing. When you go shopping online, you need labels; when you buy packaged food, you need labels to tell what is inside. The label business is growing quite well, with a global growth rate of 4 to 5 percent every year. But the rate in China can be double-digit.
Do you have any new investment plans in the pipeline in China?
Yes, we do have a future investment plan in China, which covers three big investments over the next couple of years.
First, we will emphasize our environmental performance. So far we have already invested $80 million in China in this area.
Second, to meet the evolving needs for copy paper, UPM will further expand our Changshu, Jiangsu province mill's copy paper capacity.
Third, UPM will initiate investments to expand the Changshu mill's specialty paper capacity, by installing a second super calender paper machine.
What's the impression from your first visit to China?
It was in 2002. When I first came here, there was no highway from Shanghai to Changshu. Then a few years later the first highway was built and a few years after there came the second one.
So that has been an enormous change that showcases the rapid development of China. Initially, the mill was in the middle of fields. But within a few years it has become an industrial park in the city.
Are you optimistic about the global economy?
If we look at any of the global trends, like urbanization, the growth of middle-income consumers or climate change, I feel that we have a great opportunity to take advantage of these kinds of global trends.
Even if there is some turbulence, I feel very positive because UPM has innovative technology and we have access to renewable materials, forest-based raw materials, and we know how to provide high value-added products and solutions.
So basically, I view the world quite positively.