China Mobile ready for advance
Share - WeChat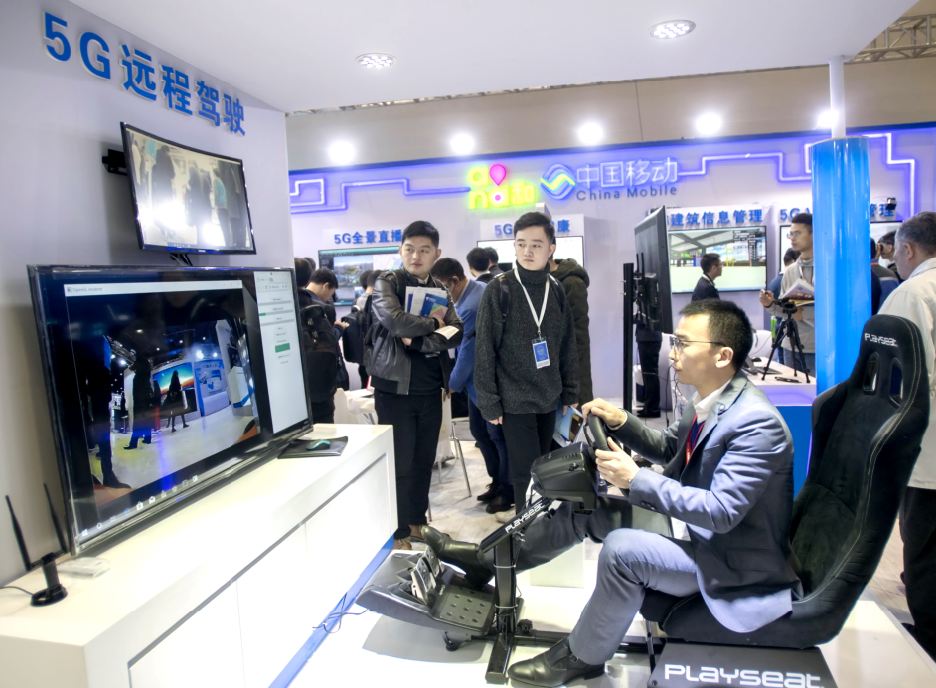 Builder of the world's largest 4G network lays solid foundation for the upcoming 5G era
A typical photo of a successful Chinese businessmen in the 1980s often featured a brick-sized prototype mobile phone. Such phones were too big to conceal in the palm of one's hand and could do nothing except make and receive calls. But it highlights that when mobile communication services were first brought to China, they were positioned as a luxury service.
After decades of development, however, smartphones are becoming omnipresent in the country, and can help users do almost everything from buying movie tickets to booking medical appointment. Behind the popularity of mobile services across China stands a company that has also evolved from a little player into the world's largest telecom operator: China Mobile Communications Group Co Ltd.
As of October, the Beijing-based company has more than 900 million mobile subscribers. It was just 31 years after a mobile telecom service was first enabled in the Chinese mainland in 1987 to help people in Guangdong province communicate with those in Hong Kong and Macao.
Now after building the world's largest 4G network, China Mobile is scrambling to establish a beachhead in the upcoming 5G era, in which almost everything can be connected to the internet.
Shang Bing, chairman of China Mobile, said the company intends to build a globally leading fifth generation network by combining 5G mobile communication technology with artificial intelligence and cloud technology.
"We will focus on standalone 5G network structure, push forward the cloud deployment of superfast technology and build an intelligent network by boosting operational efficiency with AI," Shang added.
The company has already played a significant role in the finalization of the first phase of global 5G standards, which kicked off the home stretch toward commercial 5G services.
That's part of its broader push for 5G pre-commercial use in 2019 and commercialization in 2020. The fifth-generation mobile communication technology is expected to be at least 10 times faster than 4G and can enable movie downloads in seconds.
In the first half of next year, China Mobile will also launch 5G smartphones, said Li Huidi, vice-president of the major telecommunication carrier.
Such eagerness and determination to experiment with new things is well demonstrated by China Mobile's development in the past decades. It was the first Chinese mainland telecom player to get listed on overseas trading platforms, going public in Hong Kong and New York in 1997.
China Mobile was also among the first batch of State-owned companies to hire popular stars to be its brand ambassadors. In the 2000s, it courted Jay Chou to represent its new brand M-zone to expand its appeal among young people.
Zhang Wentao, a 26-year-old bank employee, said China's huge telecom transformation is evidently mirrored in his experience at train stations. He remembered clearly how painstaking it was to go home during the Spring Festival travel rush in the past. He had to stand in a long line for hours outside a train station on a freezing and windy day to just get a ticket from Chongqing to his hometown of Nanchang in Jiangxi province.
But now all he needs to get a ticket is to use his smartphone. With quick taps on a mobile app, he can now book a ticket, make payments and even order takeout food and have it delivered to his high-speed train seat. "When I pass through ticket checks at stations, I no longer need to wait in long, meandering queues, because artificial-intelligence-powered (monitors at the) gates can verify my face and let me pass through in three to five seconds," Zhang said.
"I know the pre-requisite for all these services is good network infrastructure. And that is what China's telecom companies have provided," Zhang added.