Miniso sews up massive expansion plan
Share - WeChat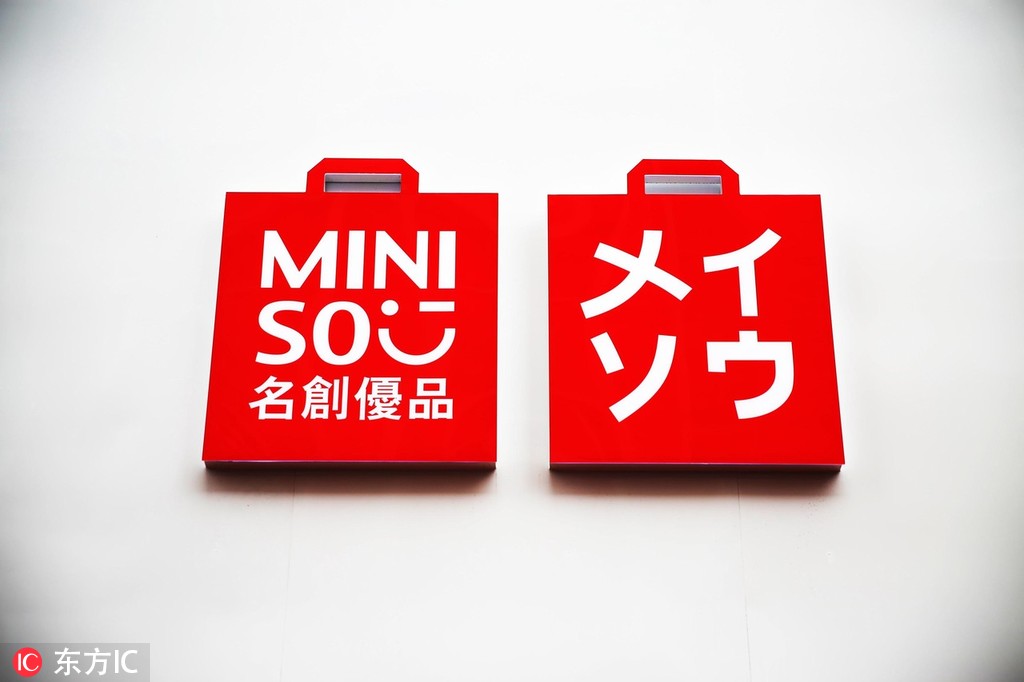 Miniso Corp, a low-cost retailer and variety store chain, plans to create more store brands, including those targeting third- and fourth-tier cities in China, to make the most of the ongoing urbanization trend and consumption upgrade.
The company has set a goal of opening 10,000 stores in 100 economies, including 7,000 stores overseas, and generating 100 billion yuan ($14.52 billion) in annual revenue by 2022.
To fund the expansion in both domestic and global markets, Guangzhou, Guangdong province-based Miniso launched in January its preparation for initial public offering.
Miniso has already received 1 billion yuan in strategic investment from Hillhouse Capital Group and internet giant Tencent in September.
The cooperation with Tencent may result in building smart stores as well, said Wang Guangyong, chief director of Miniso's brand center.
Miniso expects this year's revenue to rise 50 percent to 18 billion yuan, given that about 96 percent of the stores are already profit-making, he said.
Since its launch in 2013, Miniso has seen the number of stores in its network grow rapidly to more than 3,000 worldwide by mid-November.
The brand now boasts about 1,000 overseas stores in 78 countries and regions, including the United States, Australia, Germany, Indonesia, Mexico and India, Wang said.
The success of Miniso's physical stores has defied the global trend of online shopping, Wang said.
He attributed the growth to the brand's large variety of products - 3,000 stock keeping units per store on average.
Low prices for quality products and strong capability in in-house product development also contributed to the success, he said.
Miniso's more than 200 procurement managers constantly scan the global market to spot trends and launch new products every week, said Zhu Linhui, an analyst with the Qianzhan Industry Research Institute.
Miniso has developed capabilities to cooperate directly with product suppliers, including owners of intellectual property. It also boasts efficient IT and logistics systems that help with store management and enable quick shipping from manufacturers to Miniso stores in 21 days, Zhu said.
The ongoing consumption upgrade in China is an opportunity for Miniso because consumers are increasingly becoming quality-conscious. So, retailers such as Miniso that focus on quality products can gain by optimizing their supply chains and increasing efficiency, she said.
Wang agrees. "Consumption is upgrading. It has become more sensible and pragmatic, with the previous practice of people showing their wealth with things they use gradually fading. In its place, there is this pursuit of quality inexpensive products."
Young consumers in the 18-35 age bracket, the main patrons of Miniso, prefer affordable, quality and branded products. In addition, good customer service and a pleasant shopping environment make Miniso distinct, Wang said.
The company has invested 100 million yuan in product designs. It employs more than 500 product designers from various countries, including China, Japan, South Korea, Sweden and Denmark. "The north European style of simplicity is quite popular," Wang said.
Miniso plans to forge more cooperation agreements with intellectual property-holders in product design, given its customers' penchant for new products, which the company tries to satisfy.
Such tie-ups will supplement Miniso's investment in some product makers, including prominent original equipment manufacturers, and an efficient logistics network. In overseas markets, Miniso sources some of its products locally, Wang said.