Larger duty-free shopping quota warmly received in Hainan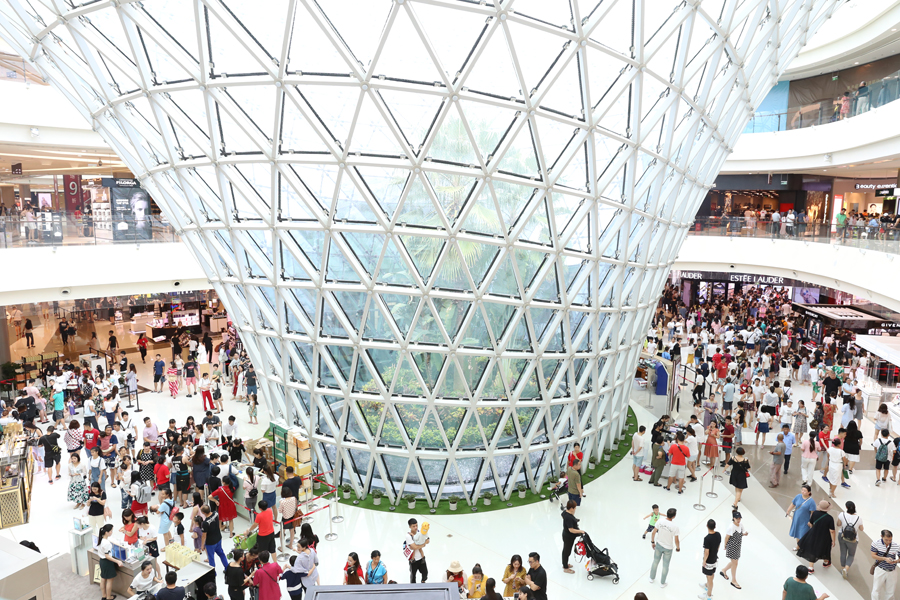 The newly revised duty-free policy for Hainan Island has been warmly received by both local residents and tourists, with the tropical island's two duty free shopping centers greeting a big-margin increase in visitors on Dec 1, the first day the new rule became effective.
Statistics from Haikou Customs showed that the island received 5,870 duty-free shoppers who bought 25,143 items with a total value of 19.79 million yuan ($2.87million) by 3 pm on the first day the new policy was implemented. All the figures saw significant growth. Though latest sales volume was not available yet, more cashier counters have been added as the growing trend continues, according to shop managers.
The central authorities of finance, taxation and customs jointly announced last week to further ease the duty-free shopping quota from 16,000 yuan 30,000 yuan, as a move to boost tourism and domestic consumption as Hainan island targets becoming a free-trade port.
The duty-free shopping policy was introduced to Hainan in April 2011 to help develop the island into a world-class tourist destination by 2020. The policy has been improved ever since with broader coverage of shopping items and fewer restrictions.
Li Wenhan, a tourist from East China's Shandong province said the larger duty-free shopping quota gives him and his friends more convenience and more choices to buy high-quality international brands in Hainan.
While consumer needs are better met, the new policy also makes it possible for the shops to further diversify their consumer goods imports, said Bai Bing, sales commissioner of a brand name cosmetics company at Sanya Duty Free Shopping Center.
Offshore duty-free shops in Hainan sold 5.25 billion yuan in goods in the first half of this year, up 24 percent from the same period of last year, according to local customs officials.