Chip industry's growth will reduce foreign reliance
Share - WeChat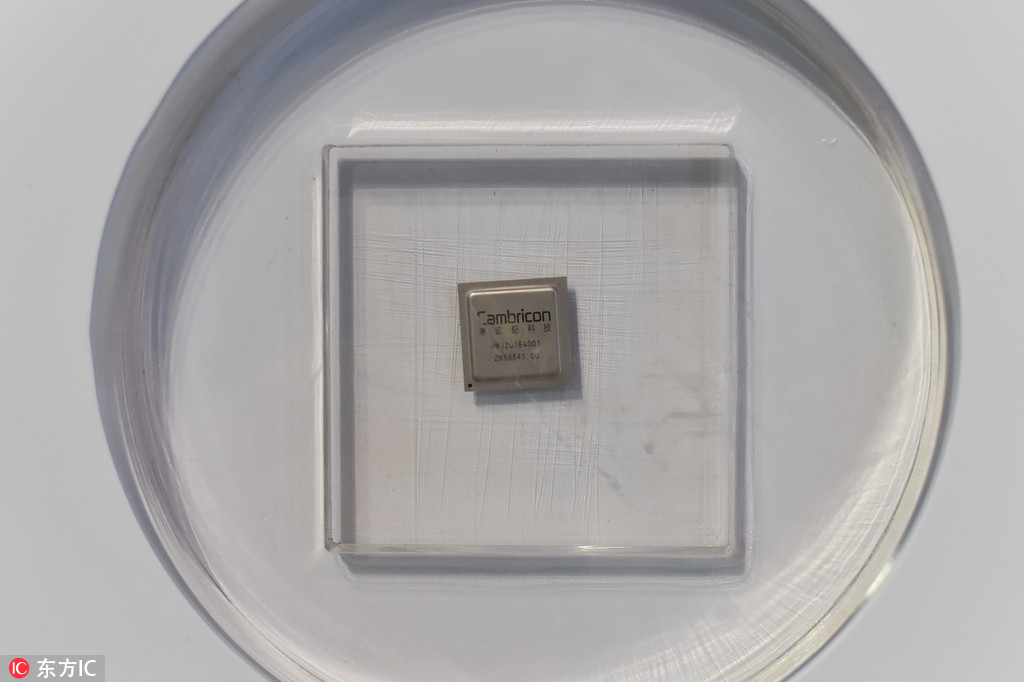 Echoing President Xi Jinping's call to boost the healthy development of the country's new generation of artificial intelligence (AI), Chinese technology companies attending the ongoing World Internet Conference in Wuzhen, East China's Zhejiang province, are intensifying efforts to develop their own artificial intelligence (AI) chips, as the country aims to become self-reliant in key technologies and lessen its dependence on foreign microprocessors.
In September, Chinese tech giant Alibaba Group Holding Ltd announced the establishment of a dedicated chip subsidiary aimed at creating customized AI chips and embedded processors to further support the tech giant's cloud and internet of things businesses, as well as drive the development of industry-specific applications.
The company plans to launch its first AI chip AliNPU, which could potentially support technologies used in autonomous driving, smart cities and smart logistics in the second half of next year, said Zhang Jianfeng, Alibaba chief technology officer, at the company's annual cloud computing conference in Hangzhou, Zhejiang province.
In April, Alibaba announced that it had fully acquired Hangzhou C-Sky Microsystems Co, which develops embedded central processing units and chip architecture, underscoring its commitment to the chip industry. "We are confident that our advantages in algorithm, data intelligence, computing power and domain knowledge on the back of Alibaba's diverse ecosystem will put us in a unique position to lead real technological breakthroughs in disruptive areas, such as quantum and chip technology," Zhang said.
China's largest telecom equipment maker and smartphone vendor Huawei Technologies Co unveiled two new chips for AI applications called Ascend 910 and Ascend 310.
Ascend 310 is designed for the low-power computing needs of smart devices, while Ascend 910, which will be available in the second quarter of 2019, is aimed at data centers. Huawei claims its chip can process more data at a faster rate than its competitors and help link networks in a matter of minutes.
The two chips will pit Huawei against major players such as Intel Corp, Qualcomm Inc and Nvidia Corp. "Huawei's AI strategy is to invest in basic research and talent development, build a full-stack, all-scenario AI portfolio and foster an open global ecosystem," said Xu Zhijun, rotating chairman of the company, at the Huawei Connect 2018 Conference in Shanghai in October. Xu added that these chips will not be sold as standalone products, because the company will develop products such as AI servers, AI accelerators and autonomous driving solutions based on these processors and sell them along with the chips to clients.
Huawei wants to get a piece of China's burgeoning AI market. A recent Tsinghua University report projects the Chinese AI market, which in 2017 grew 67 percent year-on-year to $3.55 billion, will increase by another 75 percent in 2018.
Besides, Chinese internet search giant Baidu Inc unveiled AI chip Kunlun, which can be built to meet the high performance requirements of a wide variety of AI fields and products including data centers, public clouds and autonomous vehicles.
These companies expect their respective chips to help their AI applications run better while lowering costs. The chips could also reduce these companies' dependency on processor makers whose products excel at performing the functions modern AI applications require.
Luo Weidong, chairman of Shenzhen Saiya Capital Management Co said: "The ZTE issue is like a wakeup call for the country's technology industry. The country will attach greater importance to the independent research and development of chips."
And Shu Qiquan, general manager of Shanghai Qianbo Fund, said domestic chip manufacturers still lag behind leading foreign competitors in chip design, material, and equipment. "The chip industry is in urgent need of talent and capital, and the authorities should provide financing channels and capital support for chip companies. The chip design, memory, graphic processing unit, packaging and testing, semiconductor equipment, and materials have great investment value."