Xi's vision sets tone for event
Share - WeChat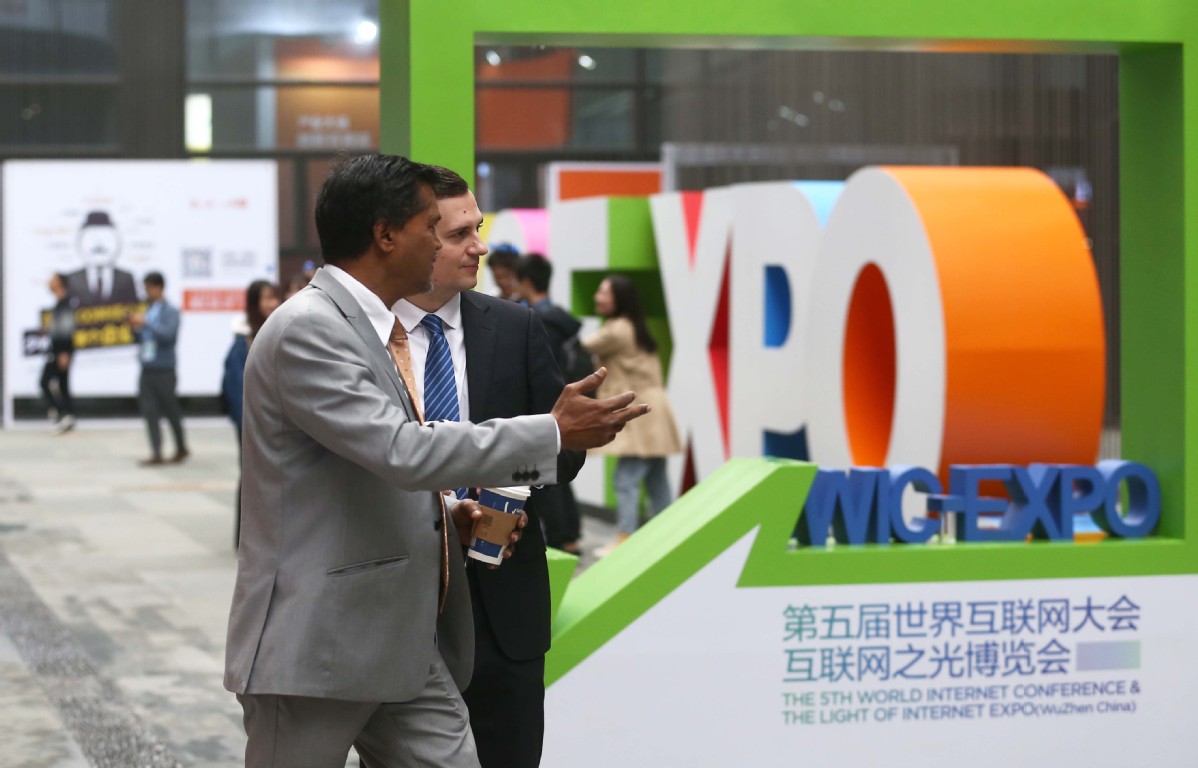 Analysts say mutual trust and collective governance in cyberspace will dominate proceedings at Wuzhen
President Xi Jinping's proposal of building a community with a shared future in cyberspace has made great contributions to improving global cyberspace governance, analysts said.
The proposal, together with Xi's other important ideas on the governance of cyberspace, will be the main topics at the Fifth World Internet Conference that will open in the river town of Wuzhen, East China's Zhejiang province, from Wednesday to Friday.
More than 1,500 guests from across the world, including government delegates, representatives of international organizations, leading luminaries of Chinese and foreign internet enterprises and renowned experts and scholars, are participating in the conference.
A total of 20 sub-forums are scheduled, focusing on such issues as "innovation-driven development", "universal security", "openness and inclusiveness", "in pursuit of a better life" and "common prosperity".
The theme of the conference, "creating a digital world for mutual trust and collective governance", derives from Xi's speech at the opening ceremony of the second World Internet Conference held in December 2015.
Cyberspace is the common space for mankind, and the future of the cyberspace should be jointly decided by all countries, Xi said in the speech.
The president's speech has set the tone for China's global cooperation on cyberspace governance, and he has elaborated the importance of building a community with a shared future in cyberspace on many different occasions.
At a national conference on the work of cybersecurity and informatization held in April, Xi called for strengthening cooperation with countries along the Belt and Road in internet infrastructure, digital economy, and cybersecurity to build a digital silk road of the 21st century.
Cyberspace governance under the framework of the United Nations should be advanced, he said.
While attending the G20 summit in Hamburg, Germany, last year, Xi proposed to push for the construction of "a peaceful, secure, open and cooperative cyberspace".
In his speech at the opening ceremony of the Belt and Road Forum for International Cooperation held in May last year, Xi said that economies along the Belt and Road should promote land, maritime, air and cyberspace connectivity.
In a congratulatory message to the opening of the Fourth World Internet Conference last year, Xi welcomed other countries to board the fast train of China's internet and digital economy development.
"China will never close its doors. They will only be opened wider and wider going forward," Xi said in the message.
The president's proposal on building a community with a shared future in cyberspace has been translated into real actions amid China's efforts to strengthen international cyberspace cooperation.
In October last year, China and the United States held their first Law Enforcement and Cybersecurity Dialogue, and the two nations pledged stronger cooperation in a wide range of issues including cyberspace security.
In 2016, the G20 Hangzhou Summit passed the G20 Digital Economy Development and Cooperation Initiative to deepen global cooperation and boost international connectivity.
China's efforts on international cyberspace cooperation reflect the common will of the international community, said Jin Yong, a professor of international relations studies at Communication University of China.
Shen Yi, a senior cybersecurity specialist of Fudan University, said China is not only promoting technology development at home, but is also trying to communicate and cooperate with the US, Russia and the European Union on cyberspace governance.
Such cooperation demonstrates China's responsibility as a major country since all the nations are facing similar cyberspace challenges, he said.
Zuo Xiaodong, vice-president of China Information Security Research Institute, said that China has made great efforts and achievements to promote the building of a community with a shared future in cyberspace over the past few years.
"For example, we have helped accelerate informatization in some other developing countries while strengthening it at home," he said, adding that such efforts have contributed to bridging the global digital gap.
Noting that China has established cooperative agreements with many nations on internet technologies, talents and law enforcement, Zuo said that international cooperation in cyberspace should be further increased.
In March last year, China issued its first international strategy for cooperation on cyberspace, drawing a blueprint for a community with a shared interest in cyberspace and showing its determination to improve global cyberspace cooperation.