Home sales flatter to deceive
Share - WeChat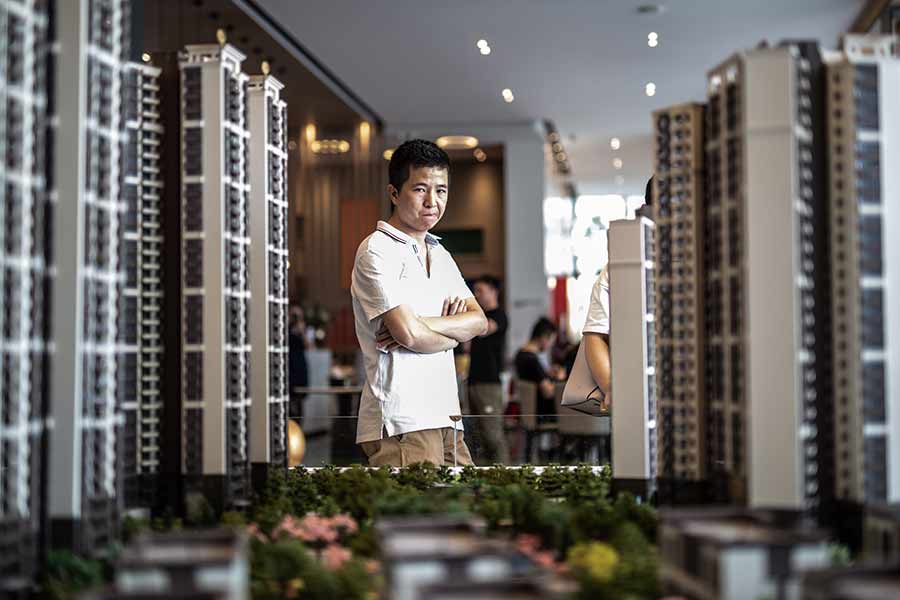 Peak season of Sept, Oct slumps, but analysts say pessimism wrong
Every year, China's property industry looks forward to September and October, by far the busiest months for home sales. If September was gold, October was silver. Not any more, industry insiders said.
This September, only 15,283 pre-owned apartments were traded in Beijing, up just 1.61 percent from the slack season of August, according to property consultancy Centaline.
And only 2,944 new homes were traded, almost reaching a historic low for the month. In the national capital, 16,387 new homes were traded in the first three quarters of this year.
Shanghai fared worse. Supply of new homes plunged 44.3 percent on-month to 743,000 square meters in September. Most of the new property space came from suburban areas like Nanhui and Qingpu, according to Centaline Shanghai data.
The largest chunk of supply came from Fengxian district, where prices quoted online touched 30,000 yuan ($4,348) per sq m. The average traded price of the top 10 residential projects edged down 3.2 percent to 54,138 yuan per sq m.
In Shenzhen, 2,248 new flats were traded in September, the lowest figure for the month in the last seven years. Their average trading price slipped 9 yuan to 54,080 yuan per sq m from August.
Similarly, sales of preowned homes in Shenzhen dropped 37 percent on-month to 4,952 units, according to local government data.
"Potential homebuyers tend to spend more time in choosing homes and bargaining with owners in a lukewarm market environment that's marked by home-buying restrictions and loan tightening," said Zhang Dawei, chief analyst at Centaline Property Agency Ltd.
According to Zhang, trade volumes in property hot spots have declined, and prices in major cities like Beijing and Shanghai are tending to drop.
Centaline data indicated that during the seven-day National Day holiday from Oct 1, home transactions in top-tier cities failed to perk up.
"From January to September, new home sales volume declined 6.7 percent year-onyear in major first- and second-tier cities, and more than 60 percent of transactions in cities saw price drops last month," said Zhang.
In response, a number of property developers including Evergrande and Vanke started to offer huge discounts on their new projects.
In his speech at a regional monthly meeting, Yu Liang, chairman of Vanke, stressed on measures to help the company survive the downtrend. This triggered market speculation that the developer is under pressure to recoup its up to 630 billion yuan payments related to apartments sold already.
"Home developers are under great pressure exerted by a capital crunch at the moment, and they are tending to lower prices to strengthen their capital flows," said Yan Yuejin, director of Shanghaibased E-house China Research and Development Institution.
During the weeklong holiday earlier this month, developer Country Garden slashed home prices in a project located in Shanghai Pudong's suburban area by 9,000 yuan per sq m to 26,000 yuan per sq m.
Zhang said he expected the discount and the price cuts may continue, he said. "After so many years of distorted development, home prices have never undergone a real downward adjustment, which will only fuel buyers' speculation. Homebuyers should realize that the era of perpetual rise in home prices has come to an end."
Analysts, however, said the situation does not require home-owners to be pessimistic as it was brought about by an unprecedented 315 restrictions imposed on the market in the first eight months of this year.
Despite curbs across the country, 67 cities saw prices of new homes rise on-month in August. Xiamen of Fujian province is the only city among 70 cities tracked by the National Bureau of Statistics to report a decline in new home prices.
Property analyst Kang Hui said the pre-owned home market reflects market mood. Prices in Beijing have already dropped about 20 percent year-on-year so far, with more cities likely to follow suit, he said.