Virtual reality sector close to tipping point
Share - WeChat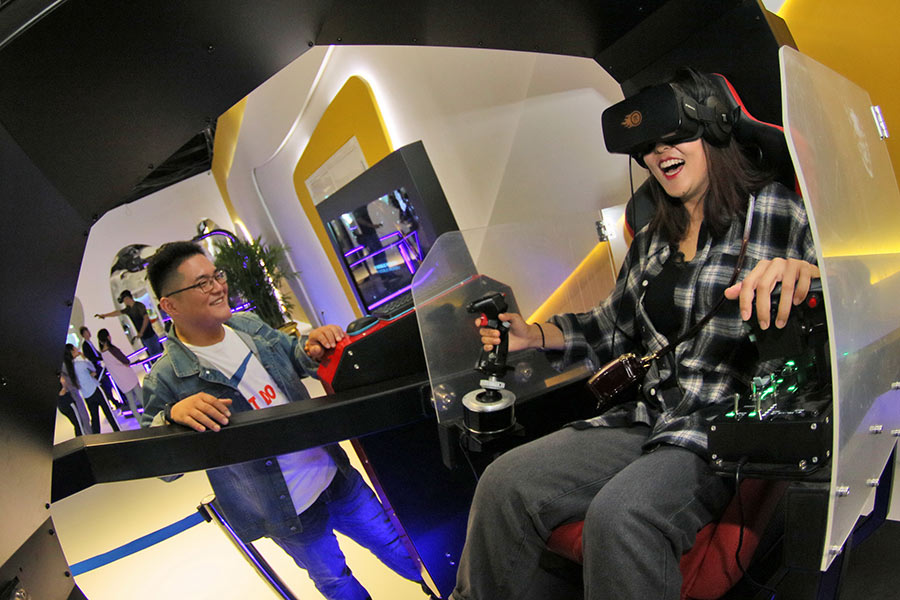 After going through ups and downs in the past two years, the virtual reality market seems to be near the tipping point, with tech heavyweights and startups all making progress on hardware and software.
HTC Corp, the world's largest VR headset maker, for instance, unveiled a pair of new controllers for its premium standalone virtual reality headset Vive Focus on Saturday, as part of its broader effort to bring consumers a better immersive experience.
The motion controllers give consumers who wear mobile VRs the freedom to move around much as they would with the PC-based HTC Vive.
Alvin Graylin, head of HTC's VR business in the Chinese mainland, said the new controllers are now only available for developers, and the company hopes the move will help them create more VR content for standalone handsets.
Also, the company's new developer kit will make it easier for developers to move their content such as games and videos from PC-based VRs to standalone VRs.
Zhao Qinping, a member of the Chinese Academy of Engineering, said the scarcity of efficient VR content is the biggest bottleneck for the whole industry. HTC's move will help overcome that obstacle.
HTC's move comes as the VR industry witnesses rapid growth. As more consumers and enterprises start to use VR for games, surgery and designing products, the market size is forecast to exceed 200 billion yuan ($29 billion) by 2020, surging from the current figure of around 100 billion yuan, according to a report from the China Academy of Information and Communications Technology.
"China's role in VR development has been on the rise-95 percent of the world's VR equipment is produced in China, and much VR content in app stores now comes from Chinese developers," said Graylin. HTC currently accounts for 35.7 percent of the global VR headset market and about 52 percent of the market in China.
In addition, US tech giant Qualcomm Inc has unveiled its first tailor-made computing platform, or chip, for virtual reality and augmented reality hardware, signaling that it is making a serious and concentrated effort to establish itself in this promising sector.
Tech behemoths including Apple Inc and Google Inc are also stepping up their push to popularize VR and AR content on smartphones.
He Zhiqiang, senior vice-president of Lenovo Group Ltd, said the company has invested in more than 10 AR companies to prepare for the next big boom.