Immersive content of firms hooks tourists
Share - WeChat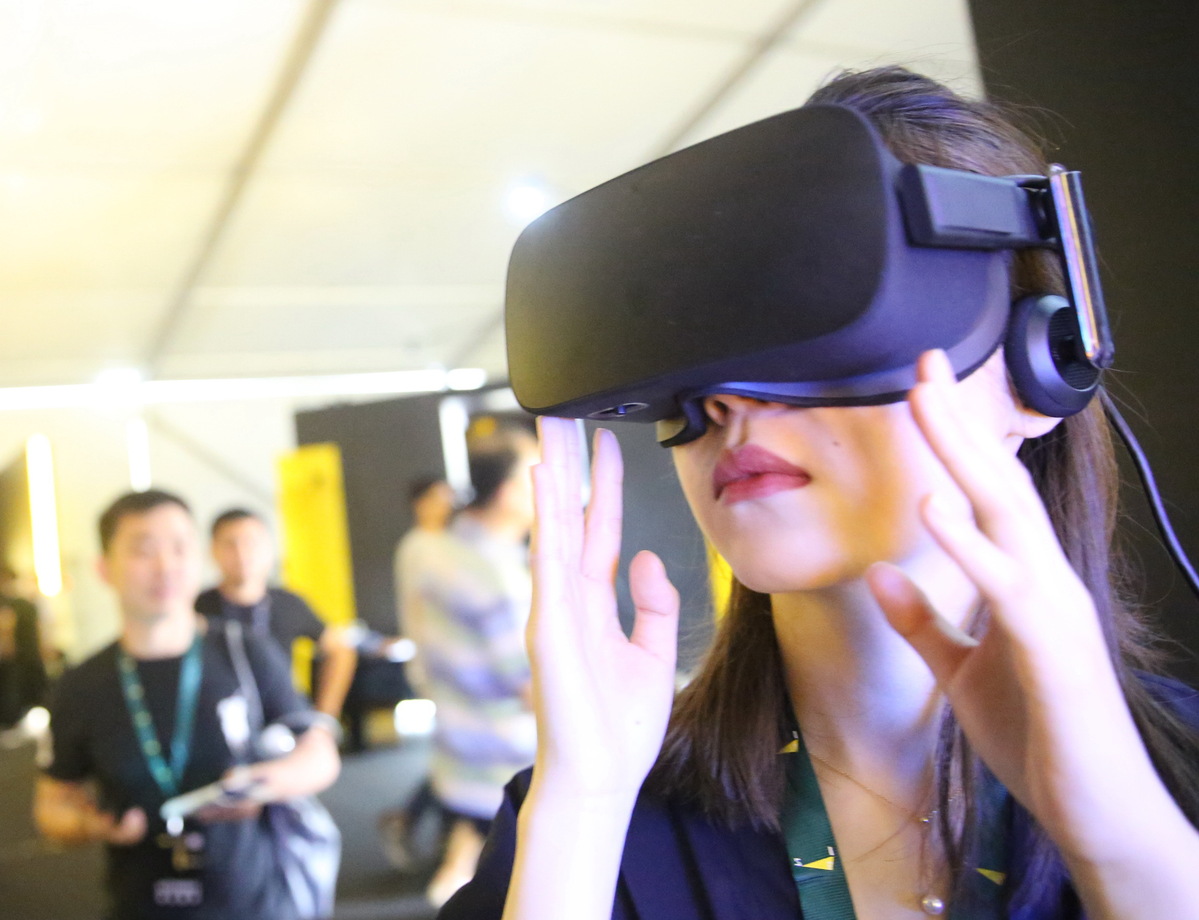 VR, AR part of pre-sale and on-site communications of travel agencies
China's travel firms, including online-and-offline entities such as Ctrip, are using high-tech to enhance their customer communications, so as to entice travelers into booking trips.
They are seeking to evolve beyond brochures, magazines, PowerPoint presentations, PDFs, websites and apps, and use virtual reality or VR content and augmented reality or AR headsets, industry insiders said.
The idea is to enable potential customers to have immersive experiences of various travel destinations and sightseeing spots first at booking centers and online.
Once potential travelers get a 3-D feel of the place, they are much more likely to book a trip, they said.
Such technologies are also used to enrich experiences of tourists at destinations.
Typically, when a potential traveler visits a travel agency, or logs in to a booking website or app, the VR headset can help him or her to walk along, say, the fairy tale streets of Disneyland accompanied by Mickey Mouse and Donald Duck.
The customer can also experience a buoyant boat ride on the Lijiang River surrounded by mountains in Guilin, Guangxi Zhuang autonomous region.
In August, Ctrip said it would equip its offline stores across China with VR facilities that can bring alive over 1,000 attractions. The content in them would leave nothing to imagination.
Zhang Li, general manager of Ctrip's marketing communications, said new technologies have helped changed the traditional way of packaging content to drive sales and for on-site experiences.
Chinese internet giant Baidu Inc launched its AR mini program, which is a microapp within a major app, in late July to improve tour experiences at Chimelong Safari Park in Guangzhou, capital of South China's Guangdong province.
The virtual animal appearing on the screen can get superimposed on real-life background, creating the illusion that it is walking or playing on the grass in front of the tourist.
Using such gadgets, tourists can also listen to the introductions to different animals, control virtual animals' movements, feed them or take pictures with the surroundings as backdrop.
Inside the Safari Park, the location guide of the AR set can lead tourists to over 20,000 wild animals from more than 500 species, according to Baidu.
Shen Dou, vice-president of Baidu, said at the launch that in the future, visitors can buy entrance tickets and publish personal travel diaries on the mini program.
Xing Xiaoliang, an analyst with market consultancy Analysys, said a combination of technology and tourism will be a future trend, given the preferences of the younger consumers born in the 1990s and later.
"The application of VR and AR has changed the traditional way of describing tourist attractions using words or images," he said. "For offline travel agencies, VR can improve efficiency in customer communications and help increase sales."
Li Lei, an analyst at global consultancy Roland Berger, said the new technologies are more suitable for attractions that emphasize sensual experience, such as theme parks, and high-end travel products like overseas trips that require a big expense and more time for clients to decide.
They can also improve the problem of homogenization in the market and help make travel products more diverse, Li said.
"An attraction tends to make a limited impression on tourists if they are left to experience it the traditional way. But immersive technologies like VR can enhance the overall experience of a place, especially scenic spots in spring and winter, which could result in repeat visits of tourists," he said.
Xing said VR could eventually pack in even useful shopping information and advertisements, which could generate additional revenue.
There are signs the related hardware market may fare well in the future. China's VR headset market grew 200 percent year-on-year in the first quarter of this year, compared with 16-percent growth worldwide, according to a report from Canalys, a research firm.
As for challenges, some users had complained that wearing such devices made them feel dizzy. High costs of hardware and content tend to make them prohibitive for some service providers, according to a report on business news website Lanjinger.