Powering BRI economies relentlessly
Share - WeChat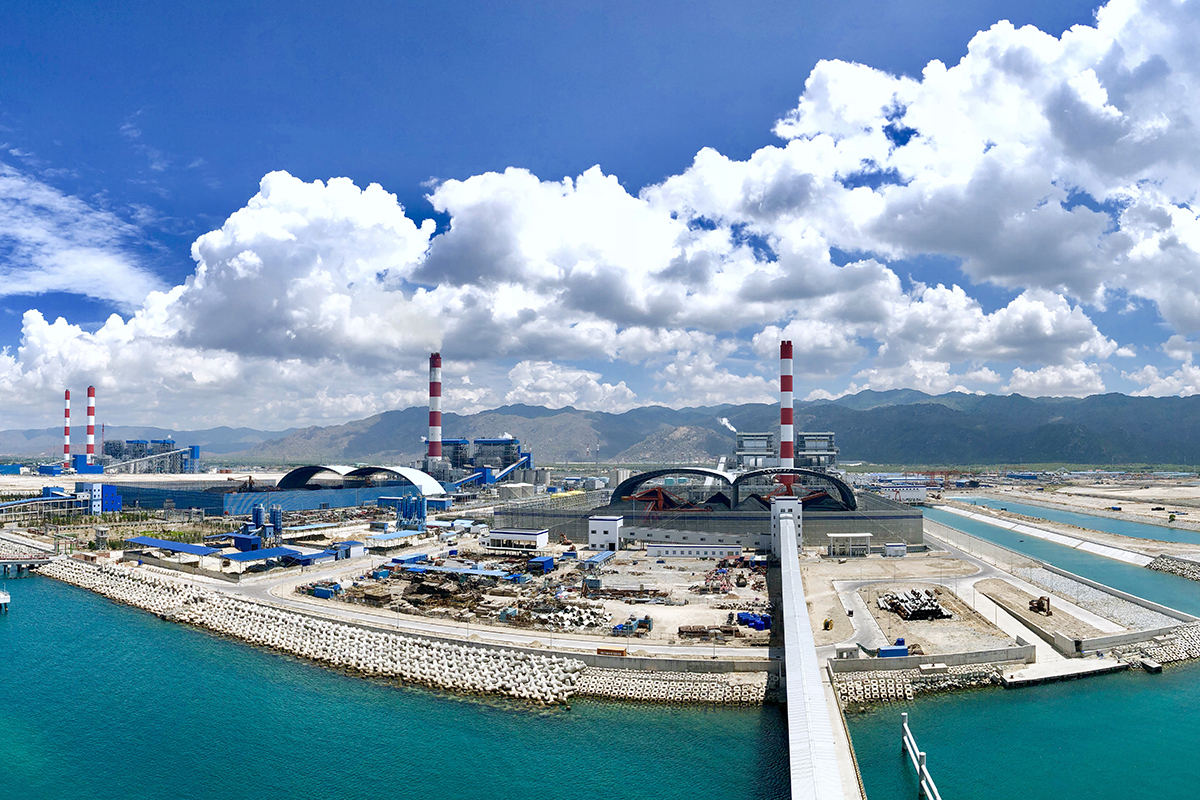 Energy China's thermal plant in Vietnam marks latest milestone in overseas success
Energy firm China Energy Engineering Corporation Limited, which is simply known as Energy China, has joined forces with China Southern Power Grid to build a $1.75 billion coal-fired power plant in southern Vietnam.
It will be a key project for the Chinese and Vietnamese governments to promote infrastructure, sharing of capacity and interconnectivity, officials said.
Construction of the 1,240-megawatt Vinh Tan 1 power plant started on July 18 2015 in the province of Binh Thuan. Its first generator has been put into operation in July 2018. The second generator will be operational in December 2018, helping reduce blackouts in Vietnam's southern region, power plant executives said.
Vietnam has been cutting coal exports to save fossil fuel for thermal power plants, as it struggles to meet soaring energy demand. It has projected economic growth of 6.2 percent this year.
This is the latest of Energy China's efforts to expand its business abroad. In June, it had signed several agreements for project contracts with energy companies in Lithuania and Ukraine. It agreed to jointly develop projects involving wind power, photovoltaics, biomass and new energy in the central and eastern European regions. It will also invest in conventional power plant projects and power transmission infrastructures projects in the regions.
According to Wang Jianping, president of the company, Energy China had carried out extensive cooperation with Lithuania, Poland, the Czech Republic, Slovakia, Bulgaria and other countries in the energy field in the past five years.
"A batch of high-quality energy projects including the Stanari thermal power plant in Bosnia and Herzegovina have set a good example of win-win cooperation," he said.
Analysts believe Chinese energy firms are likely to increase expansion overseas with more deals in coming quarters.
It's likely that Chinese companies will expand their footprint abroad, said Joseph Jacobelli, a senior analyst of Asian utilities at Bloomberg Intelligence.
Chances are high that China's clean energy cooperation continues to expand in these markets' clean energy sector in coming years as many of them are still developing their wind, solar, and other zero-carbon sources, he said.
Buoyed by the China-led Belt and Road Initiative, many companies are stepping up their performance in overseas markets, actively investing in assets abroad.
Energy China, which boasts the most number of overseas power contracts for a Chinese company, is responsible for one-third of China's power contracts from abroad. It has received contracts worth some 300 billion yuan ($43.7 billion) from countries and regions participating in the Belt and Road Initiative from 2014. The total amount of contracts accounts for more than 10 percent of the Chinese companies' contracts during the period.
In 2017, the company received contracts worth 443.8 billion yuan in all, up almost 8 percent year-on-year. Overseas contracts alone exceeded 132.7 billion yuan, nearly 30 percent of the total and up 14 percent year-on year.
During the first half of this year, the company received new contracts worth 257.8 billion yuan, including domestic contracts worth 167.8 billion yuan, or 65 percent of the total. Contracts for the power business were worth 149 billion yuan, or 58 percent of the total.
The company now has more than 200 offices in more than 80 countries and regions. Its focus is on BRI-related countries and regions, especially Pakistan, Bangladesh, Indonesia, the Philippines, and Vietnam.
The Chinese company has advantages in cost control. This will help it to nail down more assets, and Chinese investors might favor larger markets over smaller ones, Jacobelli said.
According to Energy China, its domestic achievements include the construction of the Three Gorges Project, the largest hydropower station in the world in terms of installed capacity, the AC and DC transmission lines with the highest voltage level, and the largest number of 1,000 MW ultra supercritical coal-fired units.
The company's international business has also experienced rapid development with milestone projects in recent years like the Chashma nuclear power plant project phase I in Pakistan, China's first overseas nuclear power project.
The company's Santa Cruz River hydropower station, which is under construction, is the largest project in Argentina and the largest overseas hydropower project undertaken by a Chinese enterprise so far, in terms of contract value, it said.