Yao Gang gets 18-year sentence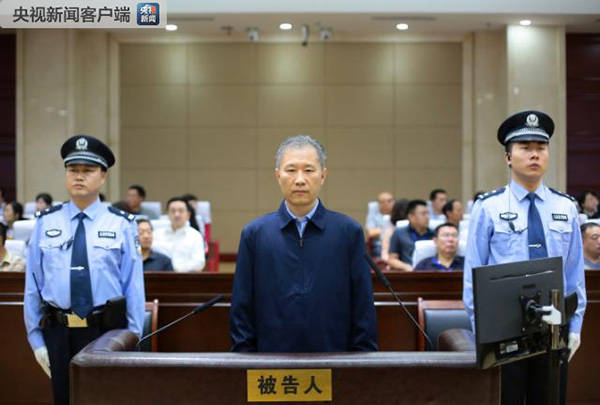 Yao Gang, former vice-chair of the China Securities Regulatory Commission, was sentenced to 18 years and fined 11 million yuan for graft by Handan Intermediate People's Court on Friday, cctv.com reported.
Yao was sentenced to 15 years and fined 7 million yuan for bribery and was sentenced to 6 years and fined 4 million yuan for insider trading. The court decided to give him an 18-year prison term and a 11 million yuan fine.
Money and property obtained by Yao from bribery and insider trading will be recovered and turned over to the State treasury.
Through trial, the court found Yao used his position as chairman's assistant and vice-chairman of the China Securities Regulatory Commission to provide help for stock suspension, resumption in trading and escape from administrative penalties for acquisition and reorganization as well as share transfers for some companies, and illegally accepted property from others with a worth totaling 69.61 million yuan ($10.43 million) from 2006 to 2015.
It also found Yao used his position to learn inside information of relevant companies' restructuring and listing, use the stock accounts of others to buy stocks before related stocks were suspended and sell stocks after the resumption of trading to illegally earn 2.1 million yuan from January to April 2014.
The court held the defendant Yao Gang, as a State functionary who used the convenience of his position to seek benefits for others and illegally accepted properties through his close relatives, committed the crime of bribery.
In addition, the court held the aforementioned insider trading offenses were especially serious and a criminal offense.
The court announced Yao should be punished according to law for the crimes of bribery and insider trading. Given that Yao confessed his crime, pleaded guilty, actively returned his ill-gotten gains and all the spoils of the crime have been recovered, the court advised a lighter punishment be considered.