Chinese consumers developing a taste for Australian wine
Share - WeChat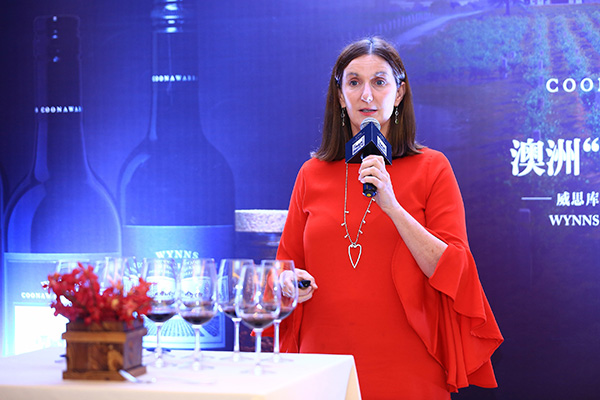 Australian wine producer Wynns Coonawarra Estate recently held an event in Beijing to publicize its new wine range.
According to senior winemaker Sue Hodder, the 2018 Wynnsday collection includes the return of John Riddoch Cabernet from the 2015 vintage. They only release this wine in high quality vintages from the very best parcels.
She said last year, after tasting 60 vintages of the Wynns Black Label Cabernet, they had many new insights and findings.
She attributed the great taste of their wines to the red soil and cool weather in the Coonawarra wine region in South Australia. She said the underling limestone gives the local red soil has good drainage characteristic and neutral pH conditions.
Compared with her last visit to China eight years ago, she noticed that Chinese consumers are more interested in the back-stories behind the wine label, not just in drinking it. Also, they are now much more knowledgeable about different wine brands.
"You have to stay respectful of the heritage and keep pace with the latest findings and innovation as well. It's a balance between the past and the future," Hodder said.
She drinks wine from all around world and looks forward to sampling more brands of Chinese wines.
She suggested Chinese tourists fly to Melbourne first, and drive along the gorgeous coastline to Coonawarra, for wine tastings in the vineyards and seafood.
COFCO Wines & Spirits, an importer under the State-owned food giant China National Cereals, Oils and Foodstuffs Corp, is in charge of the distribution of Wynns Coonawarra Estate's wines in China.
Like Wynns, more Australian winemakers have been working with domestic partners in recent years to promote their wines in China, one of the world's largest and fastest growing markets for imported wine.
According to a research in 2017 by Wine Australia, the number of Australian wine drinkers in China has doubled since 2013, and Australian wine has a very positive image among Chinese wine consumers.
Most Popular