Eat beat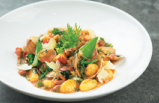 Bottega unveils autumn eats
The Salvo family name is synonymous with Pizza Napoletana. Run by Daniele and Paolo Salvo, the two grandsons of Italian pizza master Salvatore Salvo, Bottega brings authentic Neapolitan-style pizza to Beijing. The restaurant recently launched eight new dishes for the autumn season, offering pastas, risotto and Italian appetizers. Italian burrata with roasted eggplant puree and balsamic reduction is a fresh starter, and there is a wide choice of pasta dishes to choose from.
1 Floor, No 20 Xinyuanlixi, Chaoyang district, Beijing. 010-6410-9800.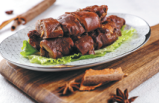 Red Chamber debuts new menu
The Red Chamber at China World Summit Wing has launched a new menu featuring more than 40 new dishes. Pig trotters in soup is a highlight, as the trotters are braised in a spiced broth for eight hours until the meat gets so tender it falls off the bone. Alternatively, the luxurious dish, Buddha Jumps Over the Wall, is highly nutritious and packed with over eight high-grade ingredients, such as sea cumber, abalone, and bird's nest that are said to boost immunity and fight off the signs of aging. However, if you only have one dish, the classic woodroasted Peking duck is a must-try.
No 1 Jianguomenwai Avenue, Chaoyang district, Beijing. 010-8571-6459.
Xiaohe raises the tempura
A new Japanese restaurant focusing on tempura has opened in the Sanlitun area of Beijing. Xiaohe provides a variety of tempura choices, including deep fried seafood with vegetable pies, phoenix tail prawns, fresh river eel, chicken breast, spring eggs tempura, fruit tempura-even ice cream tempura. A tempura set, which costs 198 yuan ($29) per person, has two appetizers, steamed egg custard, a sashimi platter, nine kinds of tempura, soup, udon noodles or soba noodles or ochazuke, and dessert.
B1, Topwin Center, Nansanlitun Lu, Chaoyang district, Beijing.
Spanish sensation hits Beijing
The Economics and Trade Office of the embassy of Spain in Beijing is presenting a "Spanish Sensation" on Sept 12 at Nali Patio, promoting Spanish wine, gourmet food and service excellence as a way of life. Spanish Sensation will unveil a colorful assemblage of premium Spanish wines and gourmet products, plus creative tapas created by top Spanish restaurants including Puerta 20, Niajo, Aqua, Carmen and Saffron. Celebrated flamenco dancers, accompanied by an acclaimed pianist, violinist and guitarist, will also perform.
Nali Patio, 81 Sanlitunbei Road, Chaoyang district, Beijing.