Embroiderer uses fabric to recreate famous Chinese picture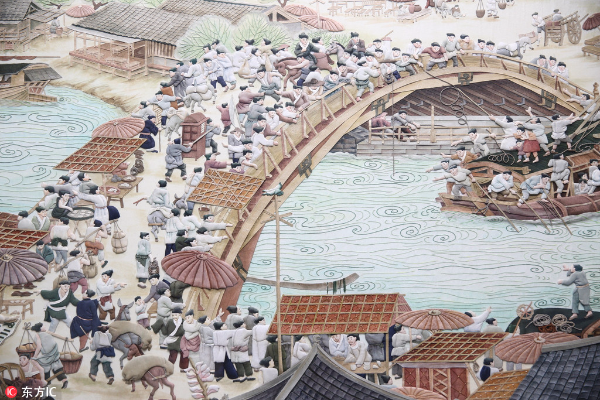 Working for two years, a Chinese woman used bits of fabric and palace embroidery techniques to reproduce the picture Along the River During the Qingming Festival, or Qingming Shanghe Tu, in which went on display in Beijing on Sept 7.
She required 40 meters of fabric to make the vendors extending all along the great bridge, called the Rainbow Bridge.
The craftswoman Jia Dashuang is a third-generation inheritor of Beijing palace embroidery, a traditional handicraft that originated in the palace and served royal families in the Ming and Qing dynasties (1368-1911).
After the fall of the Qing Dynasty (1644-1911), this handicraft was introduced to common people and developed into the present technique, where fabric is mainly stacked, patched and supplemented by embroidery.
In order to capture the original colors of the picture, she had to repeatedly dye the fabric, and at last, she had to color it once again like painting to achieve the desired effect.
In the process of creating the picture, she developed new techniques, such as making pleats that stand out and superimposing materials, endowing the work with new creativity.