Confession and repentance: a photographer's tale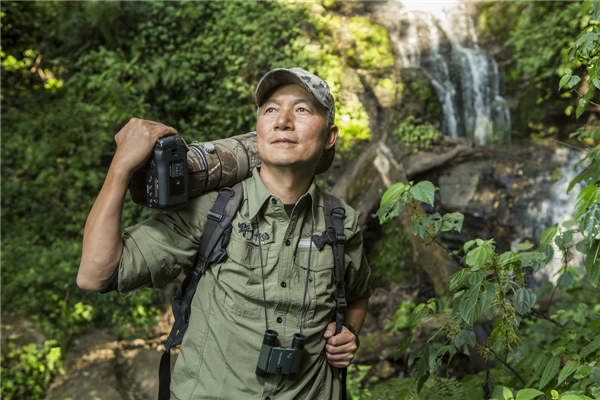 One of China's most renowned chroniclers of wildlife is making amends for having failed to care
Xi Zhinong has worked for 40 years taking photos of nature not only to capture its beauty but to promote conservation. That is why he feels deeply ashamed not to have known much sooner that the green peacock, a great bird that is culturally significant to China, was on the brink of extinction.
Xi is one of China's most acclaimed wildlife photographers and acclaimed conservationists, the first Chinese person to win Wildlife Photographer of the Year at the Gerald Durrell Awards for Endangered Wildlife and the TVE Award at the British Wild Screen Festival.
In 2000 he had the chance to photograph wild green peacocks in Yunnan for the first time.
"I didn't even get very excited when I shot it. I knew there were many green peacocks in Yuantongshan Zoo in Kunming so I thought it must be quite common," says Xi, 54.
He was keen to promote to the outside world other rare wildlife in Yunnan, he says, such as golden snub-nosed monkeys and wild elephants, so he gave the green peacock scant attention.
In fact many people, including friends of Xi who are bird researchers, shared with him the misconception that green peacocks, for which Yunnan, especially regions such as Xishuangbanna, is famous, were still common, Xi says.
After he did that photo shoot he did not see a green peacock for years, he says.
Two years ago a friend invited Xi to visit the place where Xi had last photographed green peacocks. But the difference this time was that now, 16 years later, there would be no peacocks to take pictures of. The area, in Weishan county of Yunnan, has been turned into what is called Qinghua Green Peacock Nature Reserve.
Xi's friend, the head of the reserve's management bureau, told him that it had been several years since a green peacock had been seen in the region.
Xi found that the landscape had all but vanished after its sand beaches, villages and farmlands were flooded after a dam was built there in 2010.
"If that change was not stunning enough, my friend also complained that he had become director of China's only nature reserve for green peacocks even though it had no green peacocks," Xi says.
The good news was that after the river beaches disappeared, he was told, peacocks could forage on farmlands.
However, crop seeds coated with pesticides proved to be deadly for the green peacocks. Often families were wiped out after the only male peacock in the family was killed.
"I realized how serious things were and soon started to search for green peacocks and take photos of them," Xi says.
When Gu Bojian, a young scientist, raised the alert over the threat to green peacocks' habitat along the Honghe River valley, Xi responded and asked Wild China Film, an NGO program he founded in an effort to promote wildlife protection through images, to work with Gu and other environmental organizations, such as Friends of Nature and Shanshui Conservation Center, to protect the species.
Since then he and his professional team have taken precious photos of wild green peacocks in Yunnan and worked continuously to allow more people to know about them through lectures, exhibitions and other means.
"For me this is nothing less than a work of atonement," Xi says. "As a wildlife photographer, I made such a big mistake in not looking out for green peacocks."
When he organized professional wildlife photographers in March 2017 to visit the Xiaojiang River area, where the threatened habitat is located, to carry out research and take photos, on the day they arrived Xi was lucky enough to again see the bird he had last seen 17 years earlier.
Against that, he also saw a dam being built, and his images would be used as evidence that the project was eventually going to threaten the core area of the habitat.
In the following months Xi invited other environmental organizations and media and the public to join the effort to have the dam's building stopped.
Xi's burden of remorse is lightener in knowing the promotional efforts of him and others have allowed the green peacock to become known by more and more Chinese - a far cry from the very little heard of bird it had been less than a year earlier.
Wild China has also joined Friends of Nature and the Shanshui Conservation Center to call on the Ministry of Environmental Protection to order an urgent halt to the project and reevaluate its environmental impact, in particular on the green peacock and its habitat.
Thanks to these efforts the dam project has been on hold for the past year and the entire habitat has been included in an ecological red zone.
"For me, there is no better news than that," Xi says. "The peacocks' habitat is at least safe temporarily, but other dangers remain, so it's just a new start for the protection of this rare species."
Xi says he and his team will continue their image-based investigation in the area to document the rich biodiversity in the Honghe River valley and present a documentary on green peacocks as well as other valuable animals and plants in the area to the public over the next few years.