Fresh eye for inspiration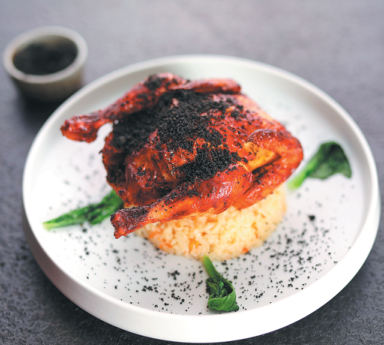 Liu's dirty chicken is made by preserving the chicken in salt water before it's marinated in seasoning to create a Xinjiang-style dish. After being slow cooked for 48 hours, the chicken is then roasted to make it crispy on the outside, before being served with a vegetable pilaf popular in the Xinjiang Uygur autonomous region.
"To perfect the dish, I had to cook dozens of chickens over and over again," says Liu.
Marinated salmon rice noodles with avocado, mustard, cucumber, kelp, green apple and Beijing churros is another of Liu's new creations, which transforms the traditional hot-and-sour Chinese rice noodles into a more Westernized dish, thanks in part to the addition of avocado.
"I got the idea from some rice noodles I had at a restaurant specializing in Lanzhou cuisine. I wanted to turn it into salad which could become a light appetizer for a meal," says Liu.
Liu also gives Chinese chuanr (kebab) a new twist by making Egyptian-style lamb kebabs with crispy quinoa, spicy BBQ sauce and mint, Tunisian-style harissa chicken with peanuts and yogurt dip, and Korean-style bulgogi pork with bonito flakes and potato.
All the inspiration for Liu's latest fusion dishes come from his recent travels around the world.
He graduated from the Beijing Jinsong Vocational School majoring in Western cuisine in 1993, and has spent much of his career working in Western restaurants in five star hotels in Beijing.
From Spanish cuisine to French cuisine, Liu has always worked with talented chefs and learned a lot from them, but this was not enough for him.
In 2015, Liu quit his job as an executive chef, and started to explore cuisines from around the world as an "on-the-road chef".
He tried more than one hundred restaurants worldwide each year, and each city he visited brought him fresh inspiration.
"Before I ate at a new restaurant, I usually sent them an email indicating that I was a chef and would like to sample a range of their dishes and visit the kitchen," says Liu.