Japanese artist showcases human-like sculptures at new exhibition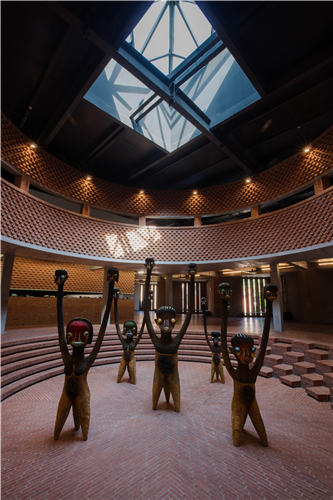 Speaking about Kato's work, Yan says that while on the one hand, Kato's works bear a kind of cuteness, on the other hand the artist's works represent Japan's ancient culture of spirits and religion.
"You can find both the artist's personality and his nationality in his works," says Yan.
Asked why his paintings and his sculptures are human-like figures, Kato says: "Compared to plants and animals, human beings are more interesting to explore in art."
Kato, who now works and lives in Tokyo and Hong Kong, graduated from the oil painting department of Musashino University in 1992. But he only took up art as a profession at the age of 30.
At the opening ceremony of his show in Beijing, he and his new band performed some rock'n' roll numbers.
Kato, who plays the drums in the band which comprises other artists, says that he likes to stay at home and mostly shops online.
Some of the materials used in his works were also purchased online.
The artist keeps an open mind on the materials he uses in his works.
"I love to try new things," says Kato, who uses wood, stone, paper, leather, plastic and fabric for his art.
Kato typically spends onethird of the year at his studio in Hong Kong, which he believes is more dynamic than Tokyo.