Japanese artist showcases human-like sculptures at new exhibition
Share - WeChat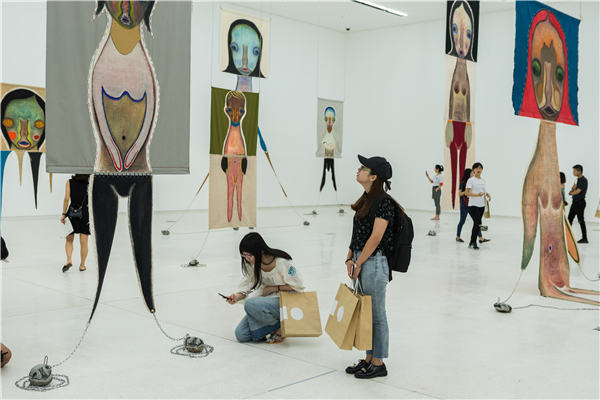 For decades, Japanese artist Izumi Kato has created human-like creatures with slim and extended limbs, in varying sizes and materials.
And his latest solo show at Beijing's Red Brick Art Museum offers a comprehensive glimpse into his eerie figures that seem to walk out from Japanese myths or from an African tribe.
On display are more than 50 paintings and sculptures produced by the 49-year-old in the past decades.
Not all of the works, however, are showcased indoors. Some of them, like two stone figure-like sculptures, are in the museum's garden.
Meanwhile, the group of large-size wooden figures standing in the museum's circular hall seem like African wooden art. But Kato says he has never visited Africa, and that he is mainly influenced by Japanese monsters and demons.
Kato grew up in the coastal city of Shimane, surrounded by ancient Japanese culture and the worship of elves.
There, locals also believe that animals and plants are divine. And there are lots of legends about monsters.
Kato's favorite monster is a snake demon with a human face that lives in the ocean.
"I used to play by the sea-side. And people often warned me that there were monsters in the ocean," says Kato, whose neighbor was a well-known cartoonist.
Yan Shijie, the director of the Red Brick Art Museum, says he was attracted by Kato's cute and unique figures last year at an art fair in Hong Kong.