Awash with ideas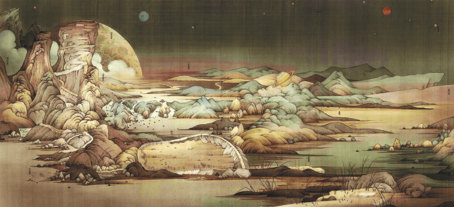 Hao has been demonstrating his talent for ink painting since the age of four. He loved visiting an antique market close to his home as a teenager, which also helped him develop his love for traditional Chinese art.
Hao earned a master's degree from the ink painting department of the Sich-uan Fine Arts Institute in 2009 and won a key art prize later that year, leading to rapid fame in art circles.
His ink painting depicting a man with a mask fetched millions of yuan in 2014 at the Christie's autumn auction, winning him wide exposure to art institutions both at home and abroad.
The artist, however, seems unperturbed by his fame. He keeps to a regular daily routine divided between his home and his studio, and shuns social media to focus on his work. He is not generally considered as a prolific artist since his long scrolls takes months to complete.