Awash with ideas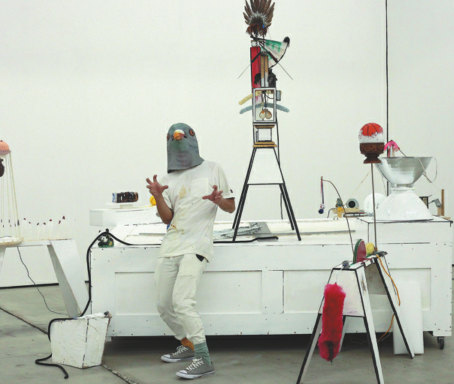 Tong Kunniao
Before dismantling his large-scale outdoor installation Art Trash at Beijing's Minsheng Art Museum in person, Tong played football with some of his young artist friends. The 29-year-old jokes that he is both a football player and a part-time artist.
The six-meter high artwork with doodles on its surface attracted thousands of visitors to explore its two-storey interior, decorated with dozens of small installations, during its display at a music festival in Beijing in April. Like the name of the work, most of Tong's artworks are made from trash, or to be more exact-from discarded materials.
"My friends always ask me first whether I want something when they are about to throw it away. My studio is full of discarded objects," says Tong, who had just been given a set of wheels from a friend's old car.
Because of his passion for collecting rubbish, Tong is often labeled as an environmental artist and he was even invited to take part in a TV show about environmental protection in June.
For Tong, art can be done in a relaxed way, and he prefers to focus on individual emotions. His art is often inspired by daily life and things that happen to him or his friends.
The artist tries to use recycled objects to express a sense of humor as well as to respond to contradictions in life and society. This is apparent in his work Do Something Without Pig Ass, where he made silicone pig tails beat drum-like cutting boards.
Since graduation from college, Tong receives at least 20 exhibition invitations a year, together with requests to collaborate with brands and art institutions. Over the past three years, he has taken up art residency projects and held solo shows in the United States, France and Germany.
"There are too many invitations. I refused some this year just to spend more time on my artwork," he says.
Tong says he is open to any art form as long as his ideas can be fully expressed. He paints, makes short videos, records voice-overs and music to compliment his artworks.
This year, he started to draw a series of small-scale ink paintings onto silk, and now often spends entire nights working on them. Tong says that after years of turning to learn from Western art, he has now begun to look at his own culture and identity to find artistic inspiration.