Late policeman hailed as national hero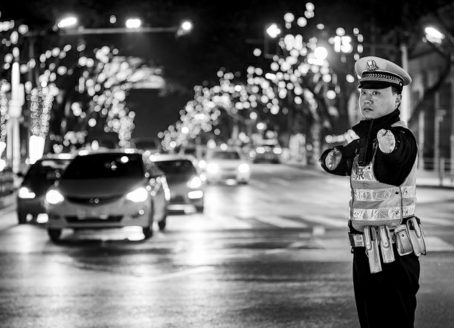 The Chongqing policeman who lost his life after he was assaulted by a vengeful motorist during the Chinese New Year has been hailed a national hero in China.
Yang Xuefeng, a deputy director of the Shichuan traffic police team in the Yubei district in Chongqing, was honored a "Model of the Age" by the Party's publicity authority on Monday.
The veteran policeman, 41, was directing heavy traffic at a crossroad in Shichuan town on Feb 18 when he noticed a man riding a motorbike without a helmet and carrying two passengers on the vehicle, which is against the law. He subsequently issued the rider a ticket for the offences.
The rider, surnamed Zhang, was reported to be furious with the incident. He went home and armed himself with a knife measuring more than 10 cm long before returning to the crossroad where he attacked Yang from behind.
The policeman put up a fight before Zhang was eventually subdued by two other policemen.
Yang suffered cuts to his neck, chest, abdomen and shoulder during the fight and died on the way to the hospital due to an excessive loss of blood.
The news of his death went viral on China's social media as people expressed their regret at losing a fine policeman. His memorial ceremony on Feb 20 was attended by thousands of people.
Yang had served in the police force for 21 years, and was considered a role model among his fellow colleagues because of his passion and dedication. He was also frequently praised by members of the public.
His efforts had also won him many awards at work, including a First-Grade Merit and two Third-Grade Merits conferred by the Chongqing Municipal Bureau of Public Security.
In June, China's Ministry of Human Resources and Social Security and Ministry of Public Security honored Yang as a First-Class Police Model, the highest award Chinese policemen can receive.
Yang grew up in a military family in Chongqing and had always wanted to serve the country like his father Yang Yunquan. In 1997, he graduated from Chongqing Police College and became a traffic policeman.
"He was devoted to becoming a qualified policeman with solid professional knowledge," said Pan Yong, Yang's colleague and classmate at the police college. "He was very disciplined. He studied and worked very hard."
Though Yang was a strict enforcer of the law, he also cared deeply about the citizens.
In October 2017, after coming across a van overloaded with students from a primary school in Tongjing town, Yang used his own money to rent a larger van so that the children could be transported to their homes in a safer manner.
Yang's wife Huang Yali, an associate chief judge at Chongqing Yubei District People's Court, said that her husband loved the job so much that he took every chance to learn.
"Whenever we traveled, he would pay close attention to the traffic situation of that place as well as how the local traffic police and their traffic lights worked," she said.