US college students excited about China trip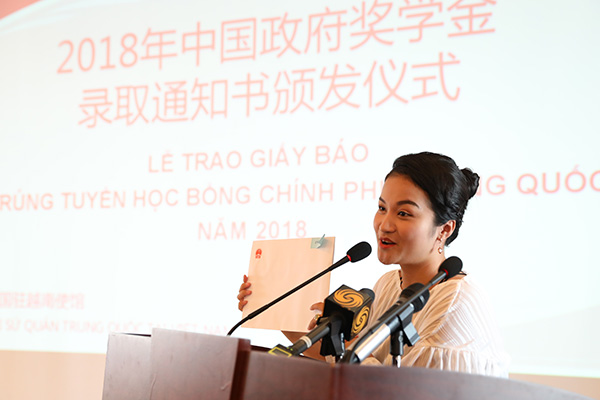 While watching a Chinese tea ceremony and taking part in Chinese dumpling tasting in the hall of the Consulate General of China in Los Angeles, American college graduate, Kimberley Arredondo, claps her hands in excitement as she gets a glimpse of what is in store for her in the coming year.
Arredondo, a California State University, Northridge graduate, was one of those at the open-house reception for the winners of the 2018 Chinese Government Scholarship and their family members.
"I feel nervous and excited. But I just can't wait to go," says Arredondo who will be at Zhejiang Normal University from next month.
"I'm nervous because I'm flying halfway around the world by myself. And I know just a little bit of Chinese," she says, stressing that she hopes to improve her Mandarin over the next year to help her overcome the language barrier.
A California native, Arredondo is not yet familiar with China, but she knows a bit about the University in Jinhua, two hours outside of Shanghai, that will be her home-away-from-home during her year abroad.
"I am excited to make a lot of friends in China," she says.
Arredondo is one of 18 who have received scholarships from the consular district of the Consulate General of China in Los Angeles to study in China.
The scholarships are offered by the Chinese government as it seeks to promote mutual-understanding, cooperation and exchanges in various fields between China and other countries.
Under the scholarship program, international students, teachers and scholars are sponsored so that they can come study and conduct research at Chinese universities.
Currently, a total of 289 designated Chinese universities offer a wide variety of academic programs in science, engineering, agriculture, medicine, economics, legal studies, management, education, history, literature, philosophy and fine arts to foreign scholarship recipients at all levels.
Meanwhile, Eddie Carrillo, a previous scholarship recipient, was quick to allay Arredondo's nervousness about journeying so far from home to study.
"I've had a scholarship from the China Foreign Affairs University, so I understand how all the new students today may be a little nervous about going to a country so far away," says Carrillo.
"I had never been anywhere besides Mexico. The first month is the most difficult. I remember the first two weeks in Beijing, I ate maybe just noodles and rice because I had no idea where to go to get food," says Carrillo, as he shares his experience with other eager students.
"But after the first two weeks, it got better. I met a lot of people there from all over the world - from Africa, Southeast Asia and Europe. We all kind of helped each other and formed a little community. We explored Beijing together, explored China together," he says.
"China is a really big country," he adds, noting that to learn more about the Middle Kingdom is why he applied for an additional year's study at Tsinghua University, one of the most famous universities in China.
Separately, Shelley Ruelas-Bischoff, associate vice-president for Student Life at CSUN, says: "Congratulations to you for having the passion and courage to be able to look at an adventure like this and take advantage of it. I think you're going to be very enriched as a result of this experience and I can tell you firsthand that when our students return, they come back with passion.
"I am so inspired and I also regret not being as smart as you all to have taken advantage of some of these opportunities when I was in school," she says.
Also speaking at the event, Zhang Ping, Chinese Consul General Los Angeles, says: "You may wonder what your new life in China will be. But I say: don't worry. Learning in China will be great fun.
"In China, you will not only acquire new knowledge, but will also find many ways to enjoy the fascinating Chinese culture and history. You will not only live and study on campus, but will also have chances to tour different places where you can see picturesque scenery and cultural heritage sites.
"You will also be able to meet people from different walks of life. And you will find them friendly and hospitable," says Zhang.
"I believe that the strength of the China-US friendship lies in our people and its future rests with our young generation. I hope while studying in China, you will be goodwill ambassadors in promoting mutual understanding and friendship between our two peoples," he adds.
Xinhua