Making a difference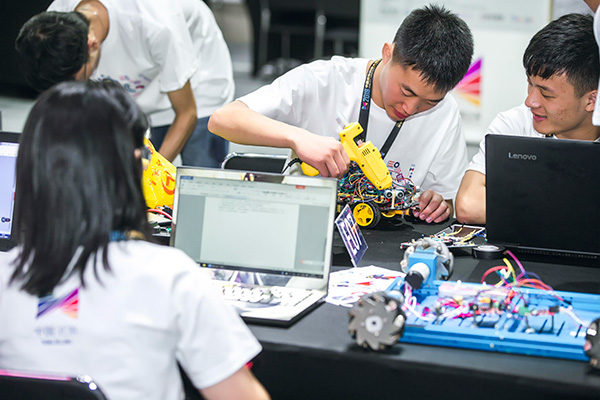 There were innovative ideas aplenty on show at the recent finals of 2018 China-US Young Maker Competition in the capital, Xing Wen reports.
The online food delivery market has flourished in China over recent years, with rushing delivery scooters being an increasingly common sight in lanes and on sidewalks in many parts of the country.
Lan Zhen, 21, a regular user of food-delivery apps found that accidents involving these scooter riders cropped up frequently, mostly as a result of the drivers using their mobile phones on the way to deliver the customers' takeaway food.
"There are 4 million takeaway riders across the country. It is inevitable for them to use phones on the roads as they have to act fast to pick up lucrative jobs via the apps and contact customers," says the electronic science major at Xiamen University. "At this point, it could be effective to improve their safety by preventing them from removing their hands from the handlebars and upgrade the traditional earphones that probably isolate them from hearing car horns."
Then, in July, Lan and her schoolmates designed a set of intelligent safety equipment, named The Guardian, which consisted of a helmet with bone-conduction headphones and a Bluetooth controller on the handlebars.
The work projected Lan's team to the finals of the 2018 China-US Young Maker Competition, where they secured second place.
The competition was launched by the Ministry of Education of China in 2014 and, this year, attracted more than 6,400 participants from China and the United States, nearly 400 of whom successfully worked their way into the finals, which were held in Beijing earlier this month.
Seventy-five teams competed in the 24-hour hackathon, creating innovative projects that showcased their interdisciplinary skills and ability to solve real-world problems.