Families prefer homes near good schools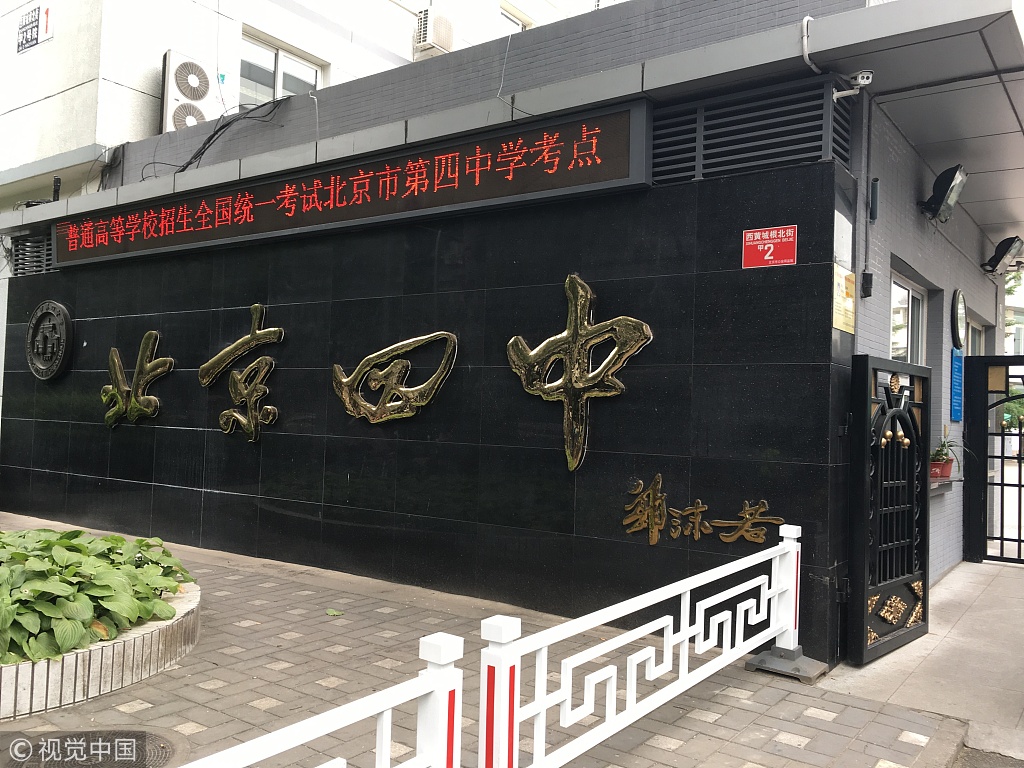 Okay, 10.5 million yuan ($1.45 million)-that's the price of a 91-square-meter basement flat in western Xicheng district, the Beijing News reported earlier this year.
If you find the price tag shocking, you need a reality check.
As a mother of a would-be elementary school student, I'd say 115,006 yuan per sq m might be a good bargain-that is, if the basement flat, like the one in Xicheng, is in the neighborhood of a prestigious school, such as the Huang Cheng Gen Primary School and Beijing No 4 High School.
The flat in question was built around 1990. The average sale price of new apartments in Beijing was 45,347 yuan per sq m in March, when the basement flat was sold at a huge premium.
Premiums are paid because there is a strong correlation between perception and property prices. Chinese parents think education from reputable institutions, starting from kindergarten to university through primary, middle and high schools, is essential for success in an increasingly competitive society.
So, a head start, in the form of education at a much-sought-after school, would help. Now, we know that when demand outstrips supply, then prices, including those of perception-propelled properties, rise-never mind their age or quality.
And they rise everywhere. A 29.58-sq-m flat in Hangzhou, Zhejiang province, was sold for 3 million yuan last November. That's 100,000 yuan per sq m, Zhejiang Online reported.
This, at a time when Hangzhou's new homes were selling at an average 27,659 yuan per sq m. A similar flat in the same community was sold at 83,123 yuan per sq m a year ago.
It's not much different outside China. For example, in the US, homes in a district with good schools command premium prices, although the price differential may not be as high as in China, said Hao Yue, a realty agent with Douglas Element Property in New York.
Similarly, in England, homes near a good primary school add 18,600 pounds ($23,697) to the average price, the BBC reported recently, citing a study by the UK education department.
Prices of homes near the best-performing primary schools are 8 percent higher and homes near the best secondary schools are 6.8 percent costlier.
The UK education department said any of the top 10 percent of primary schools in London would add £38,800 to the value of a home nearby. The average home price in the UK's capital was £484,700 in July 2016.
Analysts said amendments to current policies may help ease the pressure on Chinese parents to buy strategically located but ordinary properties at premium prices.
If children are allowed to receive education from schools irrespective of whether their parents own or lease homes in the same locality, the property industry dynamic might change, they said.
To ensure access to education is evenly balanced between children of parents owning homes in the neighborhood and children of parents leasing homes, the central government picked 12 cities for a trial of a new policy.
Schools in many cities like Guangzhou, Shenzhen, Nanjing, Hangzhou and Xiamen now admit children of parents who rent homes in the neighborhood. In these cities, it is not necessary for parents to own homes in the school localities.
Although Beijing and Shanghai don't figure in the list, Beijing has published regulations to guarantee children of parents living in rented homes receive proper education. For its part, Shanghai has set aside several land parcels for rental housing projects.
"For parents owning or leasing homes, equal rights to proper children's education are just the beginning of change. People will gradually realize that buying premium-priced property is not the only way to high-quality education," said Yan Yuejin, director of the E-house China Research and Development Institute, a Shanghai-based real estate information and research services provider.
In the US, higher home prices in districts with good schools lead to higher property tax. That helps fund schools' infrastructure development and wages for top-quality teachers. Such an ecosystem ensures top quality of education.
The flip side of market forces is that a good school will attract well-off families that are willing to pay a premium for residential properties in the neighborhood, thereby driving prices up.