Sports content for digital age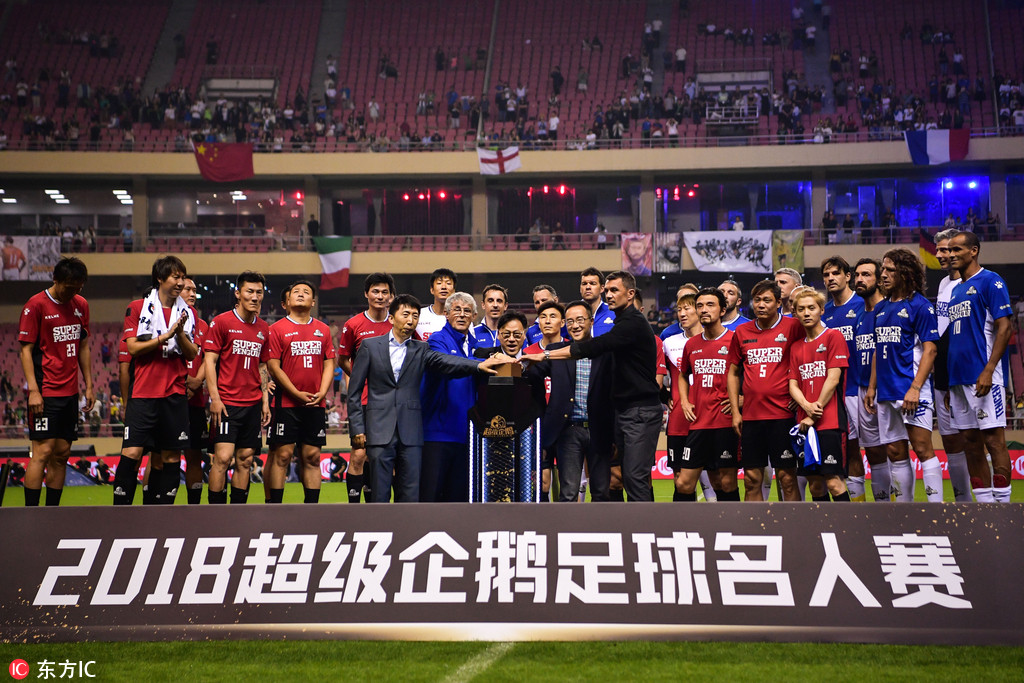 Zhao Guochen-led Tencent Sports' World Cup coverage sets new benchmark in user engagement
Zhao Guochen, general manager of operations at Tencent Sport, knows a thing or two about what it takes, in terms of content, to engage the millennials online during mega events like the recent 2018 FIFA World Cup.
Such events are considered marketing manna for advertisers and money-spinners for broadcasters. Zhao recently planned and led the World Cup coverage of Tencent Sport, the sports content wing of China's internet giant Tencent Holdings, owner of the killer app WeChat.
Armed with rare insights, he steered Tencent to big gains, both in terms of the number of users and ad revenues. One of the key insights he relied on was that in the olden days, soccer viewers spent 80 percent of the match time watching the game and 20 percent chatting over beers and snacks.
In the digital age, however, viewers, mostly millennials, consume wide-ranging content over and above mainstream newspaper fare and traditional TV coverage, and prefer mobile-friendly formats. And they spend only about 20 percent of the match time watching the game, and a whopping 80 percent on related as well as unrelated activities, which are mostly interactive (like checking and responding to, or commenting on, social media messages).
So, led by Zhao, Tencent Sport designed its World Cup coverage to exploit this new reality. Driven by the realization that the month-long tournament's format makes for 24x7 coverage that can be consumed in a living room, wash room, workplace, pub or during a commute or flight, Tencent Sport rolled out different packages.
"It's now almost impossible for anyone to watch the whole game from the beginning to the end. Just like they do every other thing using hand-held devices, soccer viewers rely on smartphones, even as they deal with everyday tasks like checking messages from time to time," Zhao said.
According to Analysys, a third-party research consultancy, about 94.1 percent of the users chose the internet rather than traditional television to watch or receive information about the soccer games.
Around 74 percent of users did other things when matches were broadcast live. And almost 70 percent of users focused on social media messages while 62 percent tended to check related news online.
Zhao said the internet as a medium of real time news and information has changed how mass media work in the digital age. Many print newspapers have cut down on old-fashioned reportage, instead focusing on analyses and insight-packed graphics.
But, even on online content outlets, things can get cruel, given the instant nature of things, Zhao said. For example, if a game is played around midnight local time, any content that cannot engage viewers/users by midnight would run the risk of being totally ignored by the e-chatterati.
So, Tencent Sports adapted to the demands of the digital age by producing match-related products in advance.
For instance, for the Iceland-Argentina match on June 16, fans got to enjoy a Coca-Cola promotion featuring Iceland's goalkeeper as soon as the match ended.
Many other memes and stories about Iceland fans were published, some of which went viral within minutes after the game ended. Tencent Sports produced such content well before the kickoff.
Tencent Sports also enabled user-generated content to be shared on its platforms. Besides, it offered the choice to watch soccer action from multiple angles.
Toward this goal, it flew a 500-strong team to Russia. The team included 300 digital video cameramen and reporters, who focused on producing a range of content, including fun videos, fans' comments, breaking news and cultural activities.
"After a game, 100 to 200 videos were being uploaded from the venues. Users uploaded their own clips. For example, a clip featuring a disappointed fan slamming his television trended for a long time," Zhao said. "All this shows users' need to be part of the event and express themselves in a timely way."
That's not all. Tencent Sports arranged a series of videos with superstars such as Argentina's Lionel Messi. His simple dance move went viral within seconds of getting published.
To be sure, soccer is not the only game in Tencent's sports coverage. Its coverage spans the NBA, the English Premier League, the MLB and winter games, and is fast expanding.
Tencent Sport has begun to deploy more resources to coverage of F1 car racing, Wimbledon tennis, e-sports and free sparring, to meet audiences' changing demand.
"Those born in the 1990s or later enjoy the fast-food culture. They consume the information quickly, forget it quickly and then move on to the next," Zhao said.
And that's not a bad thing at all, said Zhao Shiyuan, a professor at Beijing Technology and Business University. "Past coverage of traditional events like the soccer World Cup and the Olympics reached a stage of stagnation and failed to attract the younger generation."
But now, with people spending more time creating content of their own, Professor Zhao said content publishers are trying to embrace the internet and the smartphones more.