New Marriott to join attractions at northern Beijing leisure park
Share - WeChat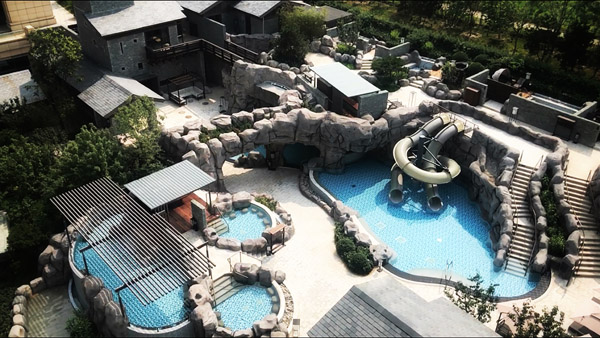 Beijing Marriott Hotel Changping, scheduled to open this month, will comprise part of a new landmark leisure facility - Fun Capital Complex - in the north of the city.
The complex, also containing a shopping outlet center and a theme park, is a center for business, culture, tourism, education and technology. It provides an ideal leisure venue serving Beijing residents and visitors from other regions.
Fun Capital Complex fills what had been a gap in the market in the Beijing suburbs, which lacked large-scale tourist and cultural projects, and an upgrade of the capital's overall leisure tourism industry, officials said at the opening ceremony of the complex last Saturday.
"Marriott hotels are devoted to creating innovative travel experiences for guests through transformation and upgrade efforts," said Mike Fulkerson, vice-president of brand and marketing for Marriott's Asia-Pacific region.
Fan Wei, director of sales and marketing at Beijing Marriott Hotel Changping, said: "Compared with other Marriott hotels, this one can meet the different demands of both businesspeople and leisure travelers."
As an important part of the mix-use Fun Capital Complex, the 34th Marriott property in China aims to attract family tourists traveling around Beijing suburbs, because of its unique geographical advantages.
The hotel is close to natural and cultural attractions, including the Juyongguan and Badaling sections of the Great Wall and the royal tombs built for 13 emperors and their families during the Ming Dynasty (1368-1644).
The hotel will offer 424 rooms and six stand-alone executive villas. There are also specially designed family suites for travelers with childlike decorations, bedding and cartoon-themed tents to provide younger guests with a unique and memorable stay.
The overall design of the hotel integrates the natural tourism resources of Changping district, making guests feel as though they're surrounded by mountains and forests, Fan added.
The new hotel will also be the only Marriott in Beijing equipped with hot spring facilities, with both indoor and outdoor springs covering more than 6,500 square meters.
There will be private pavilions and 13 different themed pools, creating a one-stop integrated destination offering accommodation, entertainment, shopping and leisure for customers.