Chic stays with Jason Wu
Share - WeChat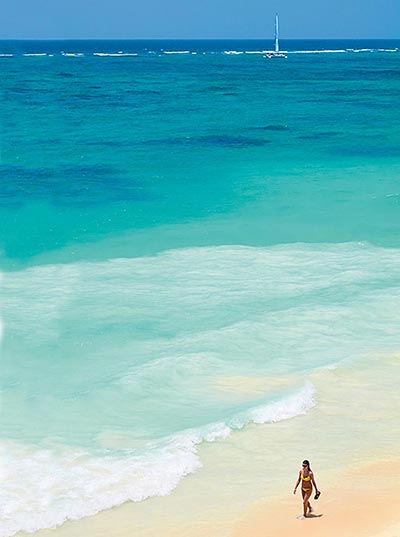 Take a tour of the world's most beautiful hotels with actors, writers, musicians and models, who share their favourite places. Here, acclaimed fashion designer Jason Wu details his love for a dreamy Mexican resort in an exclusive enclave.
Jason Wu – Hotel Esencia, Xpu Há, Mexico
Hotel Esencia really feels like a sanctuary. The first time I visited, I arrived at night and was led through these winding, narrow paths to the main whitewashed villa, once the holiday home of an Italian duchess. It really lends itself to the idea of still being that home away from home, which is often easier said than done.
The owner, Kevin Wendle, has become a close friend. He has impeccable taste and is one of the most generous hosts I know. On that first trip, he gave me a suite on one of the top floors in the house, which is all glass with 360-degree views; there are also little cottages tucked around the surrounding gardens. I woke up that first morning to see the beach, the trees, the lush scenery. It was so incredible to wake up in the middle of all that beauty, when I'm used to waking up in New York City, where it is buildings, buildings, buildings, all skyscrapers and traffic.
I'm not a beach shack person, and Hotel Esencia is a much more sophisticated spot on the sand. Everything is very refined: the decor, with mid-century furniture and curated art; the food, lots of ceviche and delicious avocado fries; even the tequila. I discovered one brand on my last trip to Hotel Esencia called Casa Dragones, which is so smooth that you sip it from a champagne flute.
When I'm here, I hardly leave the hotel. This is a place where you just let the day pass, drifting from breakfast to the beach, from lunch to the pool to the spa. When I leave, I stock up on the local oil they use. I love to draw on the beach, and I always take my sketchbook with me – if you look at my resort 2016 lookbook, you can see how Hotel Esencia inspired me, right down to the door. Sometimes to really design, you need there to be nothing crazy going on around you, and Hotel Esencia is exactly where you'll find that pocket of perfect peace.
Chic Stays is available for purchase at Assouline boutiques worldwide and through assouline.com
Related: Chic stays with Sofia Coppola