Yongjiang River gets a major facelift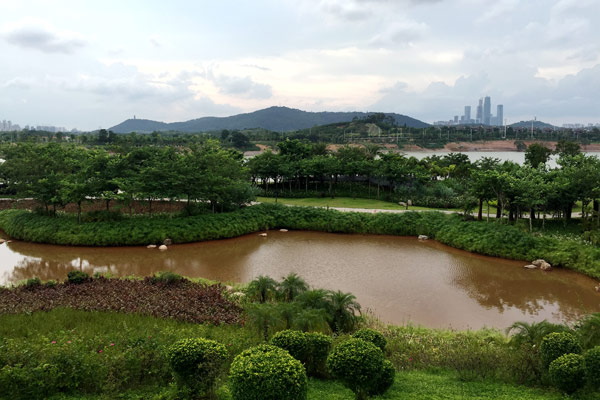 A once chaotic riverbank is being transformed.
Stone tablets, pavilions, and riverside pedestrian and cycling lanes are taking shape along the banks of the Yongjiang River that meanders through Nanning, capital of the Guangxi Zhuang autonomous region.
The Yongjiang River is known as a birthplace of local culture. Many antiques were found along the riverbanks over the years, some dating back 2,000 years ago.
People used to settle on the riverbanks, especially after the Ming Dynasty (1368-1644). However, things took a downturn in the 1990s when thousands of fisherman came to live on the banks.
Their lifestyle gradually caused environmental problems over the years as they continued to pour their refuse into the river.
"Some of them also ran restaurants, producing lots of pollution," says Huang Chengyong, an official in charge of developing the Yongjiang Binshui Park, a section of the Yongjiang riverbank.
In 2012, the local government started to deal with the trash and illegal plantations in the area. The goal was to improve the environment of the river, curb flooding and offer the public a place for leisure and relaxation.
Fishermen were relocated to government-subsidized apartments. And the local authorities also provided job training and opportunities for them.
As a result, the riverbank was cleaned up by 2014, and the river water quality has improved a lot since then.
Now, the local government is working to develop a 74-km sightseeing belt for the public.
And so far, about 80 percent of work on the Binshui park has been completed.
"Part of the green belt is open to the public already," says Huang, who adds that more than 200 varieties of plants will be put in place.
Binshui is just one of 17 parks that will line the 74-km sightseeing belt.
"A series of parks will be seen at an interval of every few hundred meters along the Yongjiang bank," says Huang.
The whole 74-km belt project is expected to be completed by the end of August, in time for the upcoming anniversary of the establishment of the Guangxi Zhuang autonomous region, according to another local official.
The river will also be widened from 200-300 meters to 400 meters, and its depth will be increased from 63 meters to 67 meters. And by then, the lowest pedestrian lane will be less than 2 meters above the water, allowing visitors to get a closer look at the river, says Huang.
Separately, a lighting project that covers the exterior of bridges and landmark buildings along the bank is in the works. And leisure, sports and recreational facilities will be added to make the Yongjiang River an ideal place to relax and have fun.
`